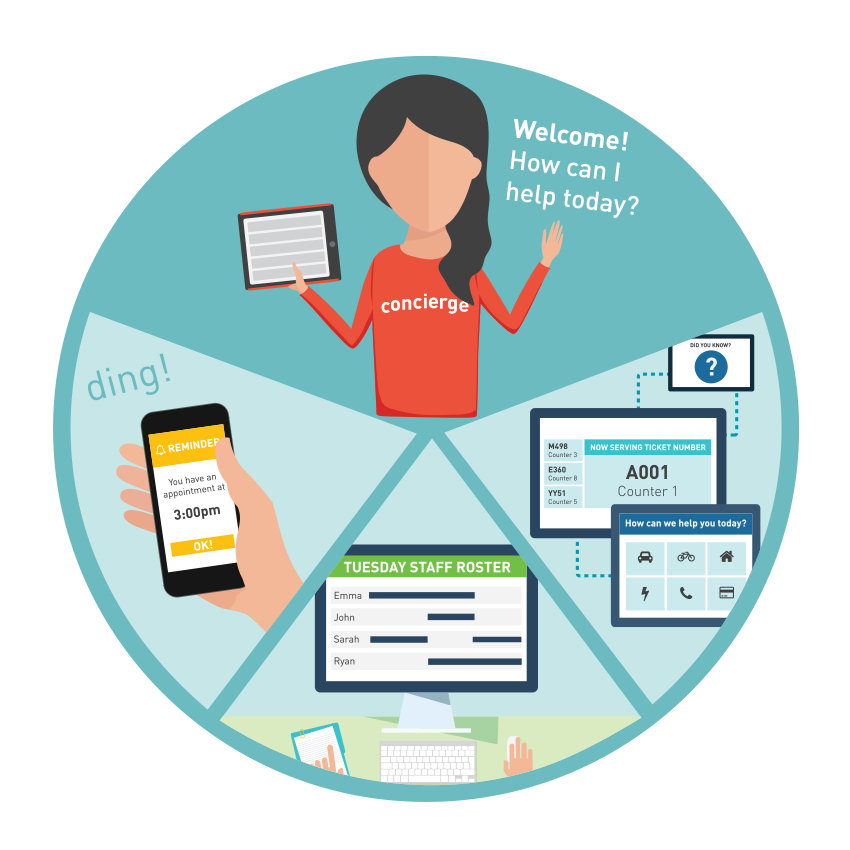 Queuing, we all do it and I suspect, all hate it. The question is, can an advanced queue management system improve your experience?
For some reason, it always seems to be that when we go to the bank, to the supermarket or even the local bar, we have to wait our turn. It seems really unfair that in order to give the retailer, bank or organisation my money, we have to wait in line and queue to do so.
Have you ever stood in a queue for more time than you think is reasonable? Come to that, what is a reasonable amount of time? For some, two minutes is too long especially if your late for that important meeting or birthday celebration.
We have always felt that any time in a queue is just a waste of time, however, this doesn't need to be and installing an advanced queue management system will help improve customer perception.
You probably already know the answer to this but have you ever thought about how organised a queue can be?
If so, you will appreciate that a well-managed queue can prove to be an excellent customer service indicator. There is no doubt that implementing an advanced queue system will benefit customers and staff alike.
A Better Customer Queue Management System
Technology has brought about many changes in the queue management world. In times gone by, managing a queue was all about moving customers into and out of your business as quickly as possible, now there are numerous other options, many of which will improve your customer's overall experience with your business.
Appointment Manager & Scheduling
In today's busy environment, everyone seems to be time poor. The Internet has driven the belief that everything should happen instantaneously and as a result, we now believe that this represents true customer service i.e. we want everything done as quickly as possible
In reality, in the majority of cases, people won't be able to turn up to the store, the branch, the hospital and be seen instantaneously, invariably you'll have to join a queue! There is one way to get round this and that is to manage your own time better.
Research has shown that when customers get the ability to pre-book appointments via your web site, call centre or other mediums, they feel a direct connection with the organisation. In fact, a customer surveys show that when customers directly engage with business and have the ability to book appointments directly, companies achieve as much as 10%-15% higher rating in customer satisfactory surveys. Not only this but companies that allow their customers to pre-book time achieve more accurate staff scheduling and because they know why the customers are coming to talk to them, get an uplift in sales of between 3% – 5% in revenue.
Undoubtedly allowing customers to pre-book appointments as part of your queue management system is a win win for all concerned.
Case Management
When your customers are in your store/branch etc they don't like to be passed from person to person – and have to repeat their story or problem over and over – until they find the right person in the company to deal with the problem. With proper case management, when information is captured, it is automatically available to anyone who may come in contact with the customer. The customer's history is recorded, so even if they work with another representative the next time they need assistance, their past contacts are recorded for the new representative to see.
The Queue Flow Queue Management System

By using a self-service kiosk, the customers can stand in line in a "virtual queue" that is managed by the electronic queue system. They answer a few questions, and it is determined which representative would best meet their needs. They are then next in line for that representative.
Digital Media
There is no doubt that having digital displays in a queuing or waiting area keeps your customers entertained whilst they wait to be served.
The real fact is that digital displays allow you the opportunity to sell! Having digital displays allow you the opportunity to up-sell to your customers even before they get to see a member of your staff.
Being really clever, if you link your digital signage to appointments, you can really earn extra revenue. An example of this is a customer who books an appointment to discuss a mortgage, when they enter your branch, you can play adverts about mortgage protection products.
The digital signage can also be programmed to play local or national news.
SMS Alerts
It seems that everyone these day's have mobile phones. Why not take advantage of this fact and not only allow customers to book appointments via their smart phone but also text them when they are within ten minutes of their appointment?
Even if the customer hasn't pre-booked an appointment, the phone can still be used to SMS the customer to tell them that they are about to be served. Using this type of technology allows customers to browse and shop in store, again, allowing you to earn extra revenue.
Implementing modern queue management system will definitely bring improved customer experience into your organisation for both your customers and your employees.
Your customers will feel you have their best interests in mind when you do things to cut down on their wait time and the time they need to explain their unique situation or problem.
Your employees will appreciate a more organised workplace. They will be able to use their time more efficiently and have an overall sense of accomplishment, which is very good for your business.