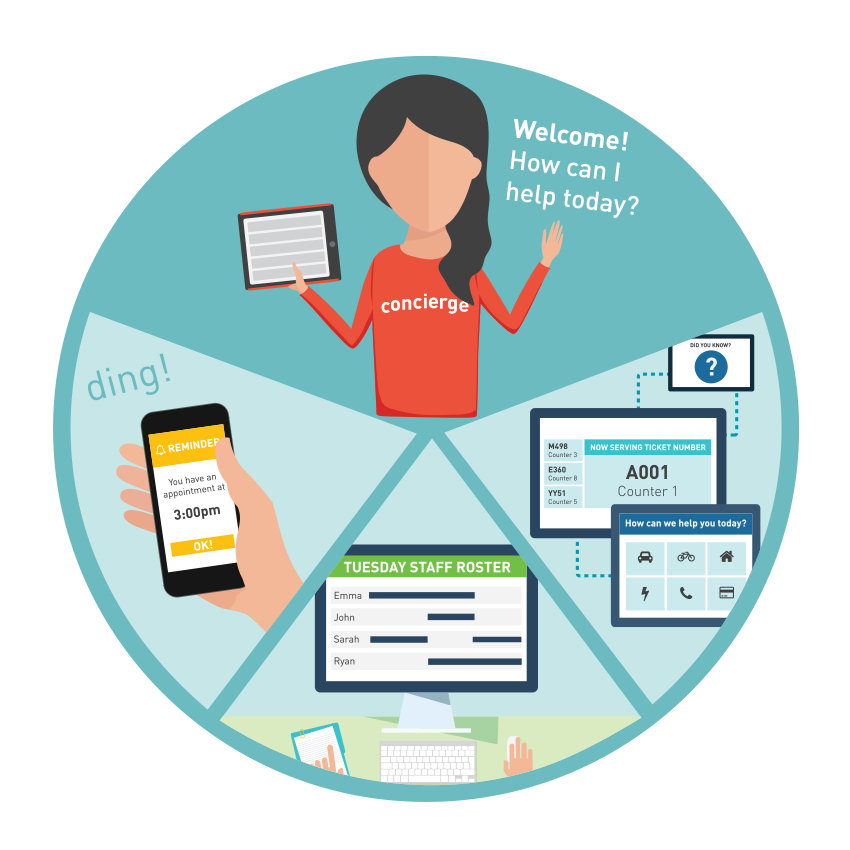 Queuing – it's inevitable today.
When we go to the bank, the supermarket or even the local cafe, we all have to wait our turn. It can seem a little unfair that in order to hand over our own money or receive a service, we also have to wait in line too!
Despite a million other things we'd rather be doing, the reality is that everyone has to queue at some point or another.
So, the question is, as a service provider, how can you improve this tedious experience and make your customers happier at the same time?
The answer: a Queue Management System
If you ask your customers, have you ever stood in a queue for more time than you think is reasonable? Most of them would probably say yes. And while we're at it, what exactly is "a reasonable amount of time"? For some, even two minutes is too long for a coffee especially if they're late for that important meeting.
Customers often feel that any time in a queue is just a waste of time. However, this shouldn't be the case. Having an advanced Queue Management System will help you make a great impression and make queuing a pleasant experience rather than a tedious one.
In this article, we'll talk about how an optimised Queue Management System can improve your customers' experience.
Read on to learn more.
What is a Queue Management System?
A Queue Management System (QMS) is a set of factors specifically designed to control customer flow and streamline the queueing experience. It involves breaking down the customer journey into key touchpoints that will make your operations more efficient and your wait times less daunting.
Well-managed queues have been proven to be an excellent customer service indicator. With an advanced QMS, your business can utilise technology to analyse, assess and enhance customer interactions. As it streamlines the entire process, implementing an advanced system like this will benefit your customers and staff alike.
Why use a Queue Management System?
While the main goal of a Queue Management System is to minimise the formation of long queues and streamline the experience for your customers, it can also help identify the number of customers and keep your staff informed at all times. So, a good QMS enables your business to be more efficient whilst reducing customer wait times.
For instance, modern Queue Management Solutions offer virtual queueing capabilities, allowing them to "wait" remotely in line before being notified that their appointment is coming up. By allowing customers to queue using their own devices, they can choose to use their time more productively, making service delivery more seamless and convenient.
This gives them the feeling that no time was wasted while in the queue and reduces the anxiety of waiting, especially if they have other errands to run – therefore allowing you to provide an exceptional experience.
How to use a Queue Management System
Over time, technology has brought about many changes in the queue management world. While managing a queue used to be all about moving customers into and out of your business as quickly as possible, there are now several other options today that you can implement to improve your customer's overall experience with your business.
Here are some of the features of a QMS that you can make use of to streamline the experience for your customers:
1. Appointment Manager and Scheduling
Advanced Queue Management Systems allow your customers to conveniently schedule and manage their appointments beforehand. Solutions like NEXA Oasis allow you to get your customer's journey off to a great start.
Research shows that when customers have the ability to pre-book appointments via your website, call centre or other mediums, they feel a direct connection with the organisation resulting in as much as 15% higher ratings in customer satisfaction surveys.
On top of this, companies that allow their customers to pre-book appointments can achieve more accurate staff scheduling because they know when and why customers are booking in.
2. Case Management
When your customers arrive at your premises, they don't like to be passed around and have to repeat their story or problem over and over until they find the right person.
With proper case management through a QMS, customer information is captured and automatically made available to anyone who may interact with the customer from then on. This means that the customer's history is recorded and presented to your staff so that even if they meet with another representative in the future, their past appointments are recorded for the new representative to see.
3. Virtual Queue Management
By using a self-service kiosk or solution like Mobile Q, the customer can wait in a virtual queue that is managed by an electronic queue system.
After they answer a few questions, the system determines which representative best meets their needs. They are then placed in line for that representative, but they don't have to stay and physically wait in an actual queue. Instead, they can manage their own wait experience by choosing to sit in the waiting area or even somewhere else nearby.
4. Digital Media Displays
There is no doubt that having digital displays in a waiting area keeps your customers entertained while waiting to be served. For instance, it can show the news, display ticket numbers called or possible waiting times.
But more than that, digital displays also give you the opportunity to communicate! For instance, having digital displays allow you up-sell to your customers or share pre-service information before they get to see a member of your staff.
If you link your digital signage to the scheduled appointments, you can earn extra revenue or educate your waiting clients with specific messaging. For example, if certain people are waiting for mortgage appointments, then you can share videos about the importance of mortgage protection products or the differences in mortgage packages that you offer.
5. SMS Alerts
Since everyone these days has a mobile phone, you can allow customers to book appointments via their smartphone and also text them when they are within ten minutes of their appointment. Solutions like NEXA's OASIS offer this functionality.
Even if a customer hasn't pre-booked an appointment, their phone can still be used to send a message to them to notify them that they're next in line. Using this type of technology allows customers to run errands or go for a wander to pass time or browse around in your store – all of which makes the waiting time much more convenient.
Implementing a modern Queue Management System (QMS) will improve the queuing experience for both your customers and your employees.
Your customers will feel you have their best interests at heart when you actively implement initiatives to cut down their wait times and streamline their experience. They'll also tell others about what you've done too!
On the other hand, your employees will appreciate a more organised workplace. They will be able to use their time more efficiently and have an overall sense of accomplishment, which is great for your business.
Our NEXA Queue Management System is built for organisations like yours
A QMS is a critical component of your overall customer service strategy.
So, to improve your customer experience and achieve high levels of satisfaction, it's important to regularly assess and adapt your QMS in line with the evolving requirements of your customers, staff and other stakeholders.
At NEXA, we have Queue Management Solutions that can help you support your team, deliver excellent service levels and thrive in the ever-changing business landscape.
Do you need help to improve your customer experience? 
If you're looking to improve your business' overall customer experience but you're not sure where to begin, NEXA is here to support you.
NEXA is an Australian company that delivers innovative solutions that streamline the customer journey. We offer tailored software that empowers our clients to improve their service by taking advantage of digital technology.
Reach out to us today to find out how we can help you to make your customer interactions matter.