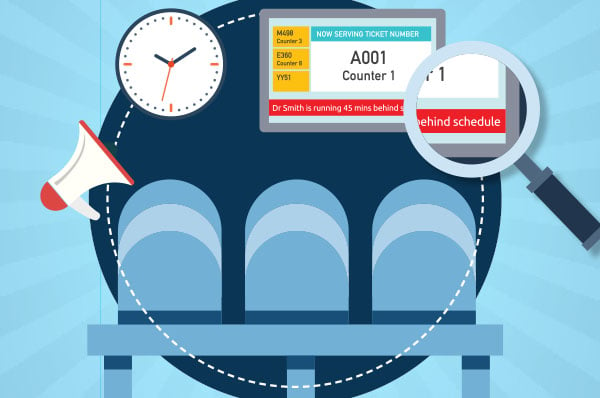 For many patients, the feeling of sitting in a waiting room and watching the minutes on the clock tick further and further past the time of their scheduled appointment is an all too familiar and frustrating one.
Oftentimes, this frustration is made worse by the fact that no attempt is made to inform them of the reason for the delay or to reassure them that they haven't been forgotten. By the time the doctor is ready to see the patient, they have grown so angry and annoyed that they will consider their whole patient experience a poor one – despite whatever happens next.
This can be detrimental to the operations of a healthcare provider, especially if it's happening on a daily basis. People will then share their experiences with others and leave reviews, making the situation worse.
However, there is one simple way to ensure that this does not happen in your clinic - and that's through open and effective communication with your patients.
What's the impact of unexplained waiting times on patients?
A patient's feelings towards their healthcare provider can be highly dependent on the quality of their patient experience. In fact, a study published in the Journal of Medical Practice Management found that 96% of all patients attribute their frustration to a poor patient experience, rather than the quality or skill of their medical professional.
Some of the biggest complaints include:
excessive wait times
insufficient communication
disorganised operations
The longer a patient waits without proper communication throughout the process, the more agitated they become. As many patients visiting clinics and healthcare providers may not feel well to begin with, managing their experience should be a top priority.
Fortunately, simply talking with patients and explaining that they haven't been forgotten can go a long way towards making them feel more at ease.
At NEXA, we believe that strengthening the communication between staff and patients is important, not only to encourage a more pleasant patient experience, but to also reduce stress, too.
The importance of communication between patients and healthcare providers
When patients regularly experience extended wait times, their frustration often drives them to look for an alternative provider. This can be damaging to the reputation and revenue of a healthcare facility.
Building an honest and open dialogue with your patients creates an opportunity for them to understand your organisation and vice versa. When you are clear about wait times and proactive in mitigating delays, patient expectations are actively managed and any negative perceptions about your service are typically removed.
Moreover, better communication with patients also leads to a less stressful and more pleasing working environment for your staff.
As with all relationships, improved communication helps to:
nurture relationships and foster trust in your organisation
allow your organisation to prevent or resolve problems easier
provide clarity and direction for all users of the service
increase team member engagement and teamwork
improve staff productivity and satisfaction
promote a healthy workplace ethos
improve patient flow
How to make communication within your organisation more effective
As patients are starting to expect a more personalised service from healthcare organisations, it's more important than ever to explore and adapt to the latest digital trends.
This is where NEXA's Q-Flow platform comes in.
Q-Flow is a digital tool that automatically organises your patients into a virtual queue while keeping them informed of their place in the queue in real-time.
This provides your patients with the ability to go for a quick coffee or run an errand while they are waiting in line, without risking losing their place. Q-Flow will then automatically notify the patient when the clinician is nearly ready to see them. This allows the patient to spend their valuable time on the things that they want or need to do, rather than sitting in a waiting room watching the clock.
Through the power of real-time notifications, you are providing a quality patient experience that leaves them feeling informed and valued. This will also clear up your waiting rooms and enable your staff to be more efficient.
Do you need help with improving patient communication in the waiting room?
At a time when patients may already be under a great deal of stress, open communication and greater transparency can really help to provide a more positive experience while showing empathy and understanding.
That's how we can help you.
NEXA is an Australian company that delivers innovative solutions to streamline the customer journey. With NEXA, you can support and enable your team, deliver excellent service levels and thrive in today's evolving landscape.
To learn more, you can talk to us today to find out how you can make your customer interactions matter.