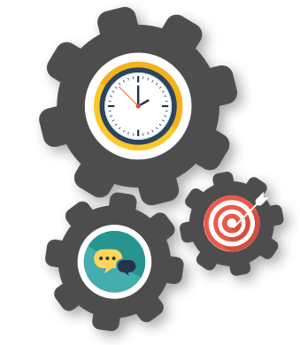 As each industry continues to evolve, one thing remains constant: if businesses want to be successful, it involves a commitment to providing the highest quality of service to improve the customer experience.
This all starts with well-functioning business systems.
Since the global pandemic has forced businesses to adapt to the new normal, it's now more important than ever for every organisation to maintain streamlined business processes that both address customer needs and, in turn, make processes easier for staff.
This is where effective business process management comes in.
What is a business process?
A business process is a collection of linked tasks or set of activities that, once completed, will accomplish an organisational goal by detailing how staff collaborate and interact with suppliers, customers and partners.
Many organisations develop their business processes in isolation from all other processes they interact with. Sometimes, they don't even consciously develop a process at all. It just simply comes into being organically because "that is the way things have always been done." As a result, many organisations find themselves impeded by their own processes, and will continue until their processes are assessed and optimised.
That's where business process management comes in.
How should organisations manage business processes?
In order to achieve an organisation's goals effectively, business processes must be designed, executed, documented, measured, and adjusted according to each goal. In reality, however, we know that most organisations are dynamic and their goals and processes are continually evolving. This makes the management of these processes extremely challenging.
According to Gartner Glossary, Business Process Management (BPM) is about managing processes, rather than tasks, as a way of improving business performance outcomes and operational agility. These processes should span organisational boundaries, link people together and cover information flow, systems and other assets that create and deliver value to customers.
In other words, Business Process Management involves observing the blueprints within your organisation and determining if they're efficient and effective, and what improvements can be made to enhance productivity.
What's new in Business Process Management (BPM)?
As with anything in today's digital world, a new generation of BPM software is now altering the paradigm.
BPM software facilitates cross-channel collaboration by empowering organisations to connect people, processes and data, while delivering real-time insights for continuous process improvement. Effective BPM enables organisations to be more agile, allowing brands to remain competitive in today's fast-paced environment.
Other benefits of using BPM software include:
improved process quality
improved customer experience
improved customer satisfaction
continuous process improvement
reduced costs
In the past years, the focus of BPM has shifted from cost saving to customer satisfaction. This is evident in service-based organisations where customer service is no longer viewed as a cost-centre – rather, it's now the bridge between empowered customers and the organisation. For an institution to thrive, it must fulfil its customer needs with an experience that they appreciate and value.
Customer service agents need to overcome numerous hurdles to please their customers. So, constantly optimising business processes according to your customers' needs is the catalyst to increasing satisfaction and enhancing staff productivity.
This is a key motivator behind the adoption of BPM software in progressive service-based organisations.
Does your organisation need effective Business Process Management?
Perhaps it may be time to take a look at your business processes and review them. This will help you determine if they're adding value or just adding unnecessary complexity.
If you want to implement effective Business Process Management strategies and use software to improve both your customer experience and make daily tasks easier for your team members, NEXA can help.
NEXA is an Australian company that delivers innovative solutions that streamline the customer journey. We offer tailored software options that empower our clients to improve their customer service by taking advantage of digital technology. With NEXA's solutions, you can increase team productivity, deliver excellent services and thrive in today's evolving landscape.