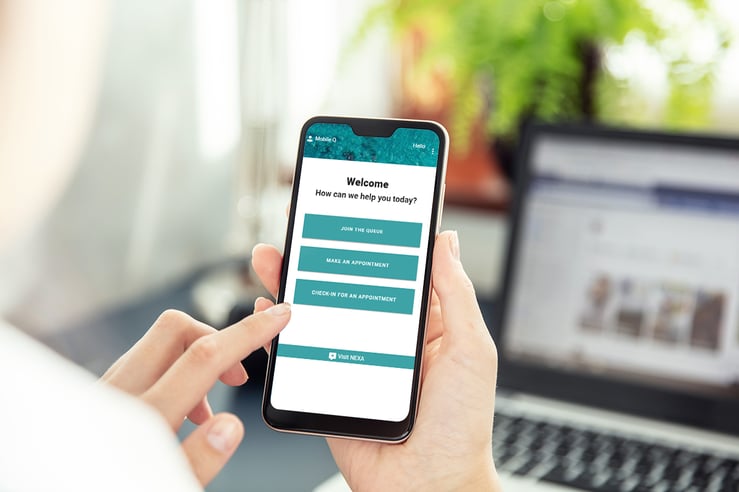 Let's be honest – if there's a way to not wait in line to get a coffee, pay at the counter, apply for a license or complete transactions at the bank, we'd all take that option.
That's because today, no one likes waiting in a physical line.
In an age where your customers have high expectations and a low tolerance for wasting time, organisations need to offer them more alternatives when it comes to queueing – and this is true regardless of the industry you're in: healthcare, business, government or education.
Often, what keeps your customers, patients or students from having a great experience with you is the time they spend waiting in line.
If there was a way to keep your loyal customers from waiting, any smart organisation would adopt it.
Fortunately, there is: virtual queueing. This involves removing the need for physical queues and instead, adopting a more efficient, innovative option for waiting to be served.
In this article, we'll discuss how you can implement virtual queueing solutions and cater to the needs of your customers, patients and students.
Virtual queueing as an alternative solution to physical queues
Everybody wants a streamlined journey when they're visiting a hospital, attending a public government agency or enrolling at a university. Unfortunately, having to physically wait keeps this from being a pleasant experience.
After all, time is a valuable asset that no one wants to waste idly waiting around.
As long physical queues can be inconvenient and frustrating for people, it's a smart idea for organisations to have more innovative options involving virtual queueing that allows customers to be "in line" without having to physically stand in a room or wait within your premises.
This is where virtual queue or electronic queue management comes in.
With an efficient queue management solution, your customers, patients or students can check in when they get to your facility, join their respective virtual queues and then choose how to spend their time while waiting for their turn.
They may go out for some fresh air, run errands, work or make calls.
As an example, by using NEXA Mobile Q, people can scan your QR code using their phones, tap what service they want, get issued a digital number in a virtual queue and then leave until they are notified that their turn is coming up.
With virtual queueing technology, instead of managing physical queues or waiting rooms within your store or office, you can now facilitate the organisation of service delivery digitally – making the process more convenient for both your customers and your staff.

What are the benefits of virtual queueing?
Virtual queueing offers several benefits that can improve your service delivery. Here are just some of its key benefits:
Virtual queueing makes your process more efficient
With a queue management solution, you will have full visibility of your queues and gain real-time insights about your customers, operations and staff. This will allow you to serve your customers better and as fast as possible.
Virtual queueing also helps with employee satisfaction
It can be overwhelming for your staff to constantly manage physical queues and deal with frustrated customers who have been waiting to be served. With virtual queue options, your staff can focus more on connecting with customers instead of putting out fires or feeling overwhelmed.
Virtual queues improve the customer experience
Of course, the main benefit involves improving your customers' experiences. It will make them feel that you value their time and that you are focused on delivering quality service. This then leads to customer loyalty, referrals, repeat business and ultimately, revenue growth.
Virtual queues are a win-win solution for everyone – which should make them a staple in the service delivery space of today.
How can you adopt virtual queues for your organisation?
There are several ways to implement virtual queues and reduce wait times within your organisation. You can choose from the following virtual queue types and decide which best fits your organisation's needs:
ticketed queueing systems

concierge

telephone call back

online check-in
At NEXA, we offer innovative virtual queueing solutions that you can use to manage your queues
Our queue management solutions:
empower your organisation to eliminate physical queues

reduce wait times and

improve staff productivity.
With our range of integrated solutions including appointment scheduling, kiosks, eConcierge, mobile apps and more, your customers will never have to stand in a long line again.
Make your queues virtual with NEXA
At NEXA, we understand the importance that your organisation places on providing the best possible service and experience – every single day.
That's why we're here to help.
NEXA is an Australian company that delivers innovative digital solutions to empower businesses, healthcare providers and educational institutions by taking advantage of digital technology. With NEXA, you can support and enable your team, deliver excellent service levels and thrive in today's evolving landscape.
Do you want to know how you can use innovation and technology to enhance your service delivery and thrive?
Talk to us today to find out how you can make all your interactions matter.