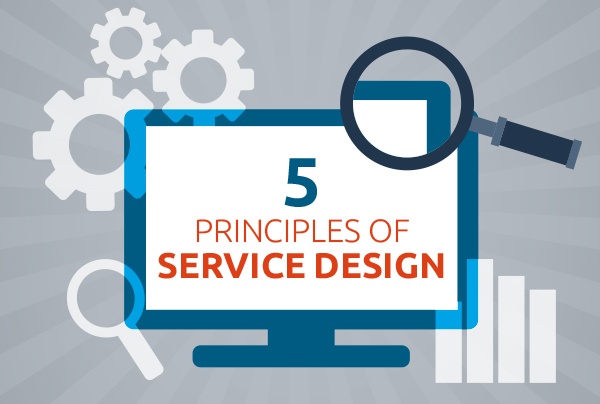 Whether you're a medical clinic, a local café, restaurant, fashion retailer or a local council, the quality of your customers' experience will always come down to the quality of your service design.
This is why the process of service design is so important.
Let's discuss what this means and how to implement it into your business.
What is service design?
Service design is a creative and practical way to assess, improve and innovate your existing service or help you design new ones. It's the method of planning and implementing practical changes to meet the needs of all the users of your services.
Through design principles, tools and processes, service design enables you to deliver customer-centric services that lead to overall business success, based on an empathetic understanding of all user requirements, including staff, team members, management and customers.
So, what are the 5 principles of service design?
For your service design to be successful, there are five core principles you need to follow. These principles will help to maximise customer satisfaction and improve your operation's internal efficiencies:
Consider every user's perspective
Design your services based on how they are experienced
Understanding every user's expectations, preferences, values, beliefs and core decision making influences will enable you to provide a high standard of service that is truly customer-centric.
The best way to do this is to gather insights through a wide range of techniques, including surveys, observations and field research.
Having a complete overview of all of your users, including staff, management and customers, will also give you a better idea of how to optimise your technology to deliver tailored solutions and enhance the overall experience.
Co-create
All stakeholder groups should be involved in the service design process.
Co-creation refers to the process in which all users are involved not just in the design of the solution, but also in the production and development of it too. Multidisciplinary teams from all levels of your organisation can offer a wide range of expertise, knowledge and skills to generate great ideas. This includes your actual customers themselves.
To take advantage of co-creation, you must first work out who is within the service 'ecosystem' and ensure every party is represented.
Engaging stakeholders in the co-creation process encourages a higher level of consistency, placement and commitment to customers as the centre of the service philosophy. This prevents all of their valuable knowledge and experience from going to waste. Co-creation also guarantees that those who use the service, and those who provide it, feel valued.
Iterate the process
One of the main features of service design is not avoiding making mistakes but learning from them.
This is achieved by prototyping and testing. You can save a large amount of time and money if you test the customer experience before spending lengthy periods of time developing it.
It's also important to remember that while it's imperative to prototype solutions before you launch them, it is also a good idea to release and test your iterations many times throughout the process. Testing is a continuous process - don't just wait until the end of the project to do so.
Visually communicate
In a collaborative team environment, it is more expressive to use visual aids than to rely purely on words.
Have your team use sketches, pictures, graphs, maps and prototypes where applicable. They can also get creative with coloured pens and glue.
Visual tools enable the viewer to digest even the most complex of ideas. Through the use of visual aids, you can properly explain what you're trying to achieve and make the information easier to remember.
Take a holistic approach
The entire environment in which the service exists and is delivered should be considered.
Holistic services look at the whole user journey and consider each person's touchpoint – this includes staff usage as well as customer usage. A holistic approach can be achieved by using service blueprints, personas or fictional characters to highlight different user experiences and user journeys. Through this, you can also ensure the functionality, safety and reliability of the service.
Utilising these 5 principles will help to form a solid foundation for successful service design initiatives for your organisation.
Do you need help designing your services?
If you need assistance improving your service design and processes, NEXA can help.
Our team can equip you with innovative solutions that streamline your user journey and improve your overall experience for everyone. Together, we can keep your customers, staff and all stakeholders happy from start to finish.
NEXA are experts in Service Design
NEXA is an Australian company committed to helping you deliver the best customer experience. Through the power of digital technology and tailored software solutions, we enable you to design services – the human way. Click here to find out everything you need to know about Service Design.
With NEXA's solutions, you can support and enable your team, deliver excellent service levels and thrive in today's evolving landscape. Reach out to us to find out how we can help you to make your customer interactions matter.