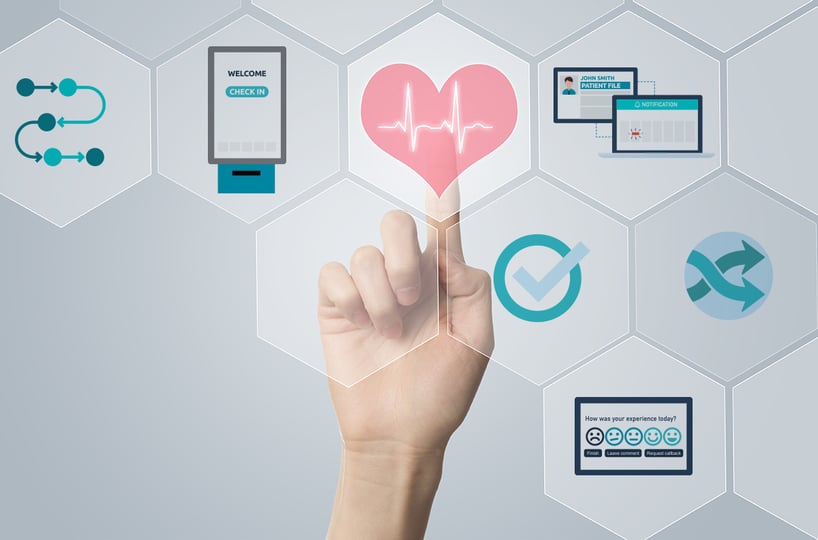 To keep up with the heightening demands of today's patients, a healthcare facility needs to be as efficient as possible.
That's because the days of accepting slow service and a poor experience are long behind the patients of today.
But how do healthcare facilities keep up?
Digital technology is the answer.
As healthcare is a space where providers have to deal with people, finding the right technology that benefits and supports patients, staff and the healthcare facility as a whole is crucial to improving and maintaining operational efficiencies in the organisation.
Fortunately, there are a number of digital health technology options that healthcare providers like you can use to create the best possible experience for your patients while also reducing the workload for your staff.
The smart healthcare facilities of today see their organisation as an enterprise in which efficiency is a driver of success.
So:
how can you improve operational efficiencies within your healthcare organisation?

What kinds of technology can you adopt?

How can you boost the experience for both your patients and your staff?
Let's discuss this.
What is digital healthcare technology?
Digital health technology refers to all the devices and digital processes that use information and communication technology to make healthcare service delivery automated, fast and efficient.
Some of the common solutions in digital health technology can be used for:
These solutions help you streamline your operations and support your staff so they can focus on patients. With digital health technology, you can also reduce physical queues, minimise wait times and make a good impression on your patients.
But beyond that, there are crucial organisational efficiency benefits to adopting digital health technology.
How can digital technology improve operational efficiencies in your healthcare facility?
By adopting the right digital technology solutions that match the unique needs of your organisation, you can make operations more efficient.
Here's how:
Innovative health solutions help you allocate hospital staff.
Digital health technology allows you to gather data and patient insights. With real-time insights and valuable data at your disposal, you can anticipate the flow of patients.
You can then allot and design schedules to accurately assign patients to specific staff with the expertise needed to support them, making service delivery faster and more efficient.
Efficient healthcare technology reduces workplace burnout.
With the technology to handle mundane and repetitive tasks, your team can focus on high-level tasks and interactions that will keep them fulfilled.
Not only can digital health technology improve productivity, but it also helps with maintaining a positive work environment – one that empowers staff to serve patients better.
Digital health technology reduces patient confusion and waiting room congestion.
As you streamline your processes, it will be easier to manage patients and direct them to where they need to be within the facility.
This, in turn, will make wait times shorter and reduce frustrations that often lead to negative experiences that patients then tend to share with their families and friends.
Because healthcare is a crucial service that caters to people's needs every single day, it's important to be as efficient as possible.
Fortunately, the digital healthcare technology that we have today makes it possible for medical facilities to deliver a far more streamlined service.
What technologies can you use to boost efficiencies in your healthcare facility?
There are several solutions that you can use to boost medical centre efficiencies and make the hospital experience better for both your patients and your staff – but it all depends on the needs of your healthcare facility.
At NEXA, we have designed healthcare solutions that will help you cater to the needs of the patients of today, and allow you to:
organise queues,

manage wait times,

collect data and

create a more relaxed atmosphere in your facility.
You can check out our range of healthcare solutions and choose which ones best fit your healthcare facility's unique needs.
The more efficient your systems are, the better you can serve patients.
At the end of the day, it's all about utilising all the healthcare technology available to you and making sure that your practices benefit everyone involved.
Let NEXA improve your healthcare facility's operational efficiencies
At NEXA, we understand the importance that your organisation places on providing the best possible service and experience for every customer, patient or student – every single day.
That's why we're here to help.
NEXA is an Australian company that delivers innovative digital solutions to empower businesses, healthcare providers and educational institutions by taking advantage of digital technology. With NEXA, you can support and enable your team, deliver excellent service levels and thrive in today's evolving landscape.
Do you want to know how you can use innovation and technology to level up your service delivery and thrive in the new norm?
Talk to us today to find out how you can make all your interactions matter.