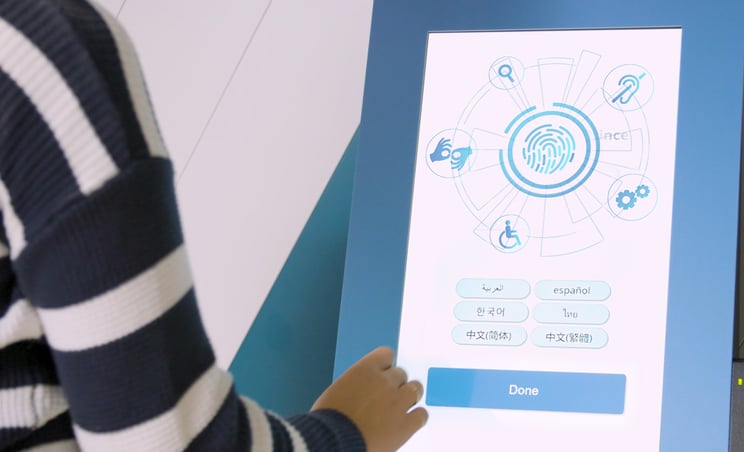 Whether you're running a business, catering to people's needs in government agencies, assisting patients in healthcare or facilitating processes in educational institutions, you need to make sure that your service takes into account the needs of all of your customers.
However, this is often overlooked when adopting new technology.
To optimise your service delivery, you want to begin by understanding your end users.
A great starting point is to ask yourself:
Who will be using my services?
How can I make the experience better for them?
So, let's discuss how understanding the demographics of your end users can help service providers, like you, deliver consistent service quality and ensure that all interactions are high-value.
What demographics should you consider in service design?
By assessing the demographics that your service caters to, and then designing your tech and processes around that demographic's needs, you can create a welcoming and safe environment for everyone.
For instance, some of the key considerations include:
alternative languages

cultural and digital literacy

additional needs

age groups and preferences
These are just some of the factors you want to take note of when identifying your target customers. After all, you want them to feel that your service delivery is fast, efficient and considerate of their individual needs.
Why do customer demographics matter in service design?
Australia is home to a wide range of demographics, which results in a range of different needs to be considered and catered for when delivering a service.
This is because:
Although these different demographics can have varying needs, there is one thing in common that unites all of them: they are looking for quality service and a seamless experience.
To give them that, you want to make sure that your systems are designed to address their needs.
Considering these varying needs will improve the experience for your customers and show them that you are taking the necessary steps to improve not just your offerings, but also your relationship with them as well.
Let's talk about how you can cater to your diverse group of clients.
How can you incorporate these demographics into your service design?
Understanding your customers is one thing, but designing your processes around them is another – however, it's definitely worth doing.
Where your service design makes your target customers feel special and respected, you're one step ahead.
One of the best ways to streamline operations, reduce wait times and minimise queues for people is by installing accessible service tech solutions such as automated kiosks within your store, office or facility.
At NEXA, we acknowledge that with the advancement of technology in service delivery, no one should be left behind. As such, we ensure that the practical solutions we offer to our partners are as accessible and inclusive as possible.
Here are some features to consider when aligning service design and technology with the needs of your students, patients and the public:
Accessible solutions should cater for multiple languages.
To ensure that all your customers from diverse backgrounds can easily access your digital service solutions, book their appointments conveniently and have a great experience on-site, you want to use software and hardware technology that accounts for the various languages that your customers know.
At NEXA, we have designed our digital healthcare solutions (like online booking platforms, mobile check-in software and physical kiosks) that offer multilingual options to cater to the needs of your customers who may prefer languages other than English.
All service solutions need to be wheelchair accessible.
For inclusive service design, you want to ensure that each service solution is designed with physical accessibility features that will make your service delivery more accessible to your customers who have additional needs.
At NEXA, all our solutions are designed with these considerations in mind.
We have digital appointment scheduling and queue management solutions that minimise wait times and reduce the need for physical queues. In addition, the height and angle of the physical NEXA kiosks that we install in stores, government offices and healthcare facilities are designed to be accessible to wheelchair users.
Inclusive service design that accommodates people with low vision and visual impairment.
As digital service platforms offer convenient appointment scheduling and virtual queuing, they are crucial in making service delivery more streamlined according to the needs of your customers' demographics.
This is why all platforms need to be as accessible as possible.
At NEXA, we have designed all of our service solutions and platforms in accordance with the WCAG guidelines. In fact, our slimline kiosks, signage products and digital solutions are WCAG-compliant and are specifically designed so that people with low vision can easily use them. Our ticket calling systems and info screens are also designed to accommodate people with low vision and visual impairment.
In addition to these accessibility features, all of our digital healthcare solutions at NEXA are expertly designed with automation and efficiency in mind. These help ensure that all of your customers receive the level of care and experience they deserve.
Innovation is pointless if people are left behind.
This is why, at NEXA, we advocate for a more holistic approach to service delivery that will make interactions matter for everyone – always and in all ways.
Make your service design more inclusive to your customer demographics with NEXA
At NEXA, we understand the importance that your organisation places on providing the best possible service and experience for every person, patient or student.
That's why we're here to help.
NEXA is an Australian company that delivers innovative digital solutions to empower businesses, healthcare providers and educational institutions by taking advantage of digital technology. With NEXA, you can support and enable your team, deliver excellent service levels and thrive in today's evolving landscape.
Do you want to know how you can use innovation and technology to level up your service delivery and thrive in the new norm?
Talk to us today to find out how you can make all your interactions matter.