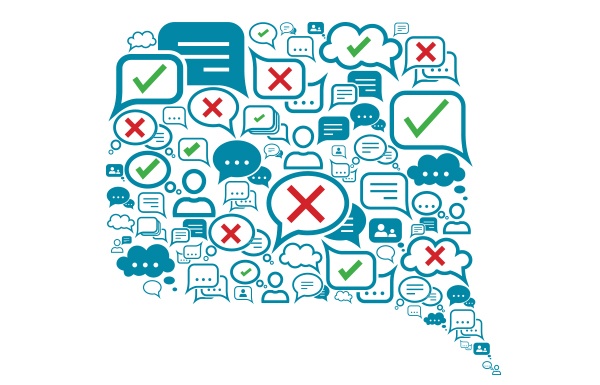 Running or managing a business means you know the ins and outs of your products and services by heart. However, because you're so close, you can also potentially overlook shortcomings, misalignments and weaknesses too.
This is where customer feedback comes in.
Actively listening to your customers gives you a better understanding of their behaviour and preferences, ultimately allowing you to optimise your customer experience, sales and overall service.
By asking your customers for their feedback:
you make them feel they are heard and
that their opinion is valued.
After all, your products and services are for them.
So, how do you collect the feedback you need, and what should you do with it?
We spoke to NEXA's Service Design & Delivery Director, Katie Bowden, to find out how she and her team collect customer feedback, and how to use the data you collect to improve your customer journey.
Here's what she told us.
Customer feedback – what isn't working
For feedback to serve its purpose, it should be collected continuously and in real-time. However, the following three usual feedback tools that are considered industry standard for gathering feedback don't do this.
A 'rate our service' prompt only collects stagnated feedback and doesn't provide deeper guidance into how to improve or why a customer chose to rate the way they did.


Another tool used regularly is the satisfaction survey. The main issue with these is that they are not tailored for everyone's experience, which gives vague feedback as a result.


Suggestion boxes are yet another common feedback tool that cannot deliver real-time and ongoing insights. Their problem is the timing factor - from data capture to analysis and measurement, the whole process takes a lot of time before you can come up with something tangible - which make it less effective.
What customer feedback is most valuable?
Customer feedback needs to be well structured and timely to produce valuable insights that allow you to make changes for the better.
Katie explains that, "there must be a more structured model for feedback where you can ask your participants a set of questions and give some evaluation or scoring criteria that give weight to their answers."
Ask yourself: how does your business collect feedback? How do you use it?
If your customer feedback isn't producing valuable insights that can help you make improvements, it's time to address these shortcomings.
How to fix feedback mechanisms that aren't working
Despite the fact that many common feedback tools don't work as well as they should, it can be difficult to suddenly change your methods, especially if you've been doing it for a while now.
Katie has worked with many clients across many different industries, and one of the most frequently asked questions she hears is: Is there a better way for customer feedback to be collected so that my business has a more realistic picture of how their experience went?
Katie appreciates the role customer feedback provides in making better business decisions.
"As a business manager or owner, you need to come up with a plan on how you can continuously collect customer feedback and get results in real-time. To do this, you have to collect multiple forms of feedback and design your own method so that you gather feedback in a way that suits your business."
"Analyse how your customers interact with your service and even with your brand today - ask yourself what kinds of methods they use. Do they want to receive surveys via SMS, or they prefer to do it in their own time? Once you've figured this out, use this to decide how you will collect your customers' feedback."
3 highly effective tools for collecting feedback
While there are many different methodologies you can use to collect and analyse customer feedback, there are three main tools you should try:
Quantitative feedback
Quantitative feedback is usually a quick multiple-choice questionnaire that is easy to fill in. This kind of feedback focuses on obtaining as many answers as possible in a convenient way. The data you'll gather using this method is precise, exact and leads to more concrete analysis.
Qualitative feedback
Qualitative feedback focuses on asking open questions for more detailed answers to gain a deeper understanding. These questions allow you to collect detailed insights into the behaviour and feelings of your customers.
Net Promoter Score (NPS)
This type of feedback measures your customers' willingness to recommend your products and services to others. Net Promoter Score is also used for gauging customers' overall satisfaction and loyalty to your brand.
Each method suits different scenarios, and each has its own unique benefits.
What are the benefits of each customer feedback method?
Quantitative methods are ideal for everyday use as they utilise an entire customer experience to uncover pain points. They are also inexpensive and give a predetermined set of questions, which can make the results easier to understand. However, they don't have the ability to tell you the 'why' or the reasoning behind certain responses.
On the other hand, qualitative methods can overcome this issue as they use small sets of customers to ask targeted questions to delve into each customer's opinion. Unfortunately, these are expensive and quite difficult to conduct regularly.
Finally, using a Net Promoter Score (NPS) can be considered a strong blend of both. However, Katie believes that the NPS score can't be used in isolation - it has more value when used in conjunction with others.
How to measure customer feedback effectively
According to Katie, there are two steps to get the best out of customer feedback:
Collecting the customer feedback
Make sense of the feedback to create valuable insights
Turn these insights into actionable improvements
Katie also added a few extra tips:
Feedback should be captured as close to the time of the interaction as possible, Try to understand the context behind your customer feedback
Work out a way to benchmark the results against an average, objectives or previous results.
Comparing insights over time can give you a good indication of how well you're adapting, or how customer expectations are evolving.
Sharing feedback with your customers and beyond
After you've collected and measured customer feedback and implemented changes, the final step (and one that many organisations miss), is to share the results. This is because everyone wants to know how you are utilising the feedback to their benefit.
Sharing your feedback doesn't need to be a complex process. It can be as simple as sending an email that says something like, "You said this, and we did this."
Beyond your customer base, internal stakeholders can also benefit from seeing the final outcomes of customer feedback campaigns. Feedback can help everyone in the organisation see how they're doing and set a benchmark for what needs to be done. Once these benchmarks have been set, you just need to ensure that there will be real and actionable goals within a given timeline.
NEXA Voice: Improve how you capture your customer's feedback
Collecting customer feedback is crucial in understanding your customers and implementing continuous improvement within your business.
Here at NEXA, we can equip you with the ideal tool to understand your customers' sentiments, unlock helpful data and gain actionable insights.
NEXA Voice is our unique SaaS solution that enables real-time reporting that can be accessed at any time. It supports multiple languages and can ask up to five questions. NEXA accurately measures customer satisfaction in real-time – allowing you to make your services and processes better on an ongoing basis.
This application works with your business to make the most out of customer insights and allows you to act on accurate information that can make a big difference to your processes.
Contact us today to learn how NEXA Voice can help your business harness the power of customer feedback.