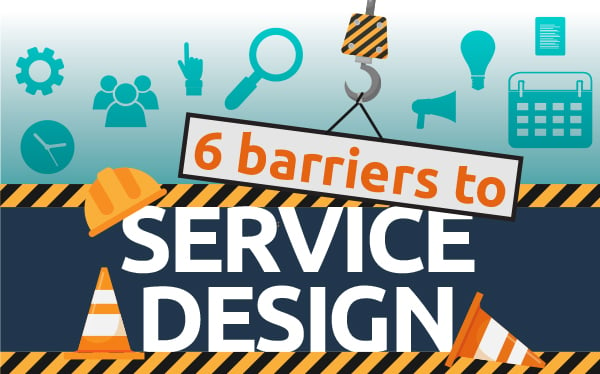 Every business strives to provide a holistic, excellent service that will satisfy customers and encourage them to come back again and again.
However, with growing competition and increasing customer expectations, this has never been more important than now.
To help facilitate this, we use a process called service design. Here's how it works.
What is service design?
Service design is a creative and practical way to improve your existing services or design new ones to best meet the needs of your customers.
It involves the application of design principles, tools and processes to organise people, infrastructure, solutions and communication with the goal of improving the quality of services and interactions between your customers and your business.
The service design process helps you see the bigger picture, allowing you to assess your overall customer experience. It's during this that you may identify some potential barriers holding your organisation back that you must take into account.
To get the most out of your service design, it's important to overcome these roadblocks before moving forward.
What are the main barriers to service design?
Let's take a look at some of the more common barriers to service design, as well as the best way to overcome them.
Barrier: Complicated organisational structure and governance
Generally, there are multiple decision-makers for individual projects, but rarely anyone who is willing to help out when a problem arises.
So, how do you overcome this barrier?
Identify who you need to speak to in order to get things done, then work your way up the chain. When the unexpected happens, a healthy organisation knows how to take ownership and respond accordingly.
To do this, it's important to bridge organisational boundaries and foster a more supportive structure and culture. You can also introduce a general management function, so you'll have a team that assigns responsibility and ensures every process is established in the event of a problem.
Barrier: Resistance to change
When implementing service design, some of the biggest barriers you'll face are the people in your team – or more specifically, their inertia to change. You may come up against individuals who are resistant to do this differently, both structurally and culturally.
So, how do you overcome this barrier?
Service design may be a new concept to some staff. So, make sure you explain exactly how it works and why it works. This way, they'll be more open to following the process you've set out.
You must also understand what different team members look for when it comes to change. By increasing the communication between your teams and constantly keeping your staff informed, you'll be able to overcome any issues or concerns that they may have. This is also an excellent opportunity to allow them to get involved and contribute to the design of the new service or improvement, so they have buy-in.
Barrier: A siloed mentality
A siloed mentality can occur when several departments or groups within an organisation are hesitant to share information or knowledge with other individuals in the same organisation. This blocks collaboration, co-creation and ultimately, innovation.
So, how do you overcome this barrier?
Communication between teams, organisations, departments and key stakeholders is essential to the smooth implementation of service design. So, it's best to facilitate multidisciplinary teams and an organisation-wide approach to implementing change.
You can also present project updates at monthly department meetings. By engaging all users at every level, you can initiate shared knowledge and collaboration between teams. Fostering champions or advocates for the project is also a good way to send information back to different departments.
Barrier: Time and pressure
The lack of time, on top of the increasing pressure to do more with less, can prohibit the availability of resources that are critical to the overall improvement of services.
So, how do you overcome this barrier?
Make sure to consider both the time and pressure during the planning stage of your service design. It's also important to examine and identify complex activities and unnecessary processes to be able to mitigate these accordingly.
Barrier: Lack of buy-in
This is key. Some organisations still feel that engaging with customers is a waste of time. They see it as optional and unessential, claiming it's too expensive and it slows down their development process.
So, how do you overcome this barrier?
There needs to be a change in mindset, and everyone from the top-down needs to jump on board.
A broad focus on service quality, rather than a narrow focus on products or transactions, will also help achieve organisational success. Focus on engaging all those involved in the change management process to facilitate buy-in, as well as a collective input of ideas.
Barrier: It's too hard!
Short-term thinking may be the biggest challenge you will come across. People often make short-term decisions as knee-jerk reactions. They also create inadequate workarounds for problematic processes rather than addressing the actual source of the problem.
So, how do you overcome this barrier?
Keep the bigger picture in mind. Even if you only start with minor projects, what's important is that you are making a difference. To address this barrier, emphasise the long-term benefits of improving service design to your team.
Through effective service design, your entire team will be able to cater to your clients' needs, provide optimal solutions and offer customer-centric experiences – all while achieving efficiencies throughout all of your organisation's operations.
Do you need help in overcoming the barriers to service design?
If you need assistance improving your service design and processes, NEXA can help.
Our team of service design experts can equip you with innovative solutions that streamline your user journey and improve your overall experience for all.
Together, we can ensure your customers, staff and all stakeholders are happy - from start to finish.
At NEXA, we are experts in service design
NEXA is an Australian company committed to helping you deliver the best customer experience. Through the power of digital technology and tailored software solutions, we enable you to design services – the human way.
With NEXA's solutions, you can support and enable your team, deliver excellent service levels and thrive in today's evolving landscape.
Reach out to us to find out how we can help you to make your customer interactions matter.