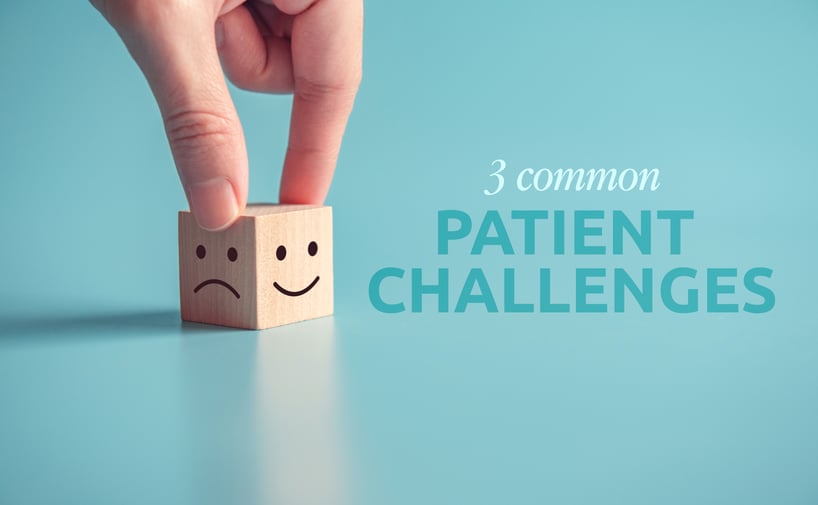 Healthcare is a staple part of everyone's life.
That being said, the experience can come with several challenges that may affect a patients' impression of healthcare providers, medical clinics and hospitals.
But these challenges can be easily addressed.
With today's technology and innovation, healthcare facilities can make any patient experience better and more valuable. This means addressing the most common pain points, such as long wait times or frustrating queues, and coming up with solutions that ensure these concerns are sorted.
In this article, we'll discuss some of the most common patient challenges that your patients typically face and share some insights around the solutions that will make your patients' journey more streamlined and your operations more efficient.
Today's healthcare patients
Health has always been among the top priorities for Australians. But recent years have seen an increase in healthcare demands, following changes brought upon by the Coronavirus pandemic.
As the needs of patients evolved, so did their expectations and challenges today. Amongst the most common concerns now are wait times, feedback and overall experience.
According to the Australian Bureau of Statistics, today's patients have experienced the following:
1% of patients had to wait for 24 hours or more to see a doctor

8% of patients opted for telehealth consultations

4% of patients waited longer than they felt acceptable to get an appointment with a GP
These numbers just scratch the surface when it comes to reflecting on the actual struggles that patients experience and healthcare facilities must address.
At NEXA, we understand how important it is to understand what patients go through to improve the experience. So, we've created a list of the most common challenges that will help you understand your patients more and come up with the solutions that will make their interactions with you more rewarding – for both sides.
3 common patient challenges and how you can address them
While every patient is unique, there are common experiences and challenges that healthcare providers can focus on to improve their patient journey.
We've listed down the top 3 most common pain points for your patients and added potential solutions that your organisation can consider to improve service delivery and overall patient experience.
1. Inconvenient appointment scheduling options
Your patients' journeys begin with booking the appointment – from the moment they choose your facility and call to schedule appointments. Unfortunately, this is also a common problem area: while there are several options out there, some still find booking options inaccessible and cumbersome.
How can you address this healthcare challenge?
With the right automated appointment and digital scheduling solution, you can start the patient journey right and make sure that it continues as efficiently as possible.
For instance, we have NEXA Oasis which you can use to offer a self-service, online scheduling option for your patients. Patients can book a time that suits them, and all appointments synch to one calendar for your team.
Through this solution, you can improve patient experience from the start of their journey and make sure that your staff are prepared for all appointments.

2. Time-consuming queues in hospitals and clinics
Once they schedule an appointment and head to your location, the next challenge comes along. Your patients now have to wait in a queue for a portion of their day, missing other things like work, family events, errands and more.
Data shows that around 43% of Australians considered waiting times for doctor's appointments to be too long. This is one of the top concerns that healthcare providers need to address to improve the patient experience.
How can you address this healthcare challenge?
NEXA's state-of-the-art slimline kiosks not only help manage optimal handling of customer traffic through your healthcare facility but also reduce idle wait times and physical lines in your waiting areas.
With customised kiosks available, your patients can check in and wait for their appointment in their preferred way – sitting in the waiting area or taking a walk and returning. The use of kiosks also reduces the manual workload for your hospital staff while minimising perceived wait times for your patients.
3. Lack of opportunity to provide feedback
Feedback does not only help healthcare facilities improve their service delivery; it also makes patients feel valued and heard. However, not all healthcare providers are proactive with collecting feedback.
Without the direct feedback from patients, communicating and mapping out improvements for staff and operational efficiencies within the facility can be challenging.
How can you address this healthcare challenge?
A feedback platform like NEXA Voice which operates on an accessible kiosk within your facility can encourage your customers to share information about their experiences. This will then help you measure satisfaction levels and gain actionable insights to improve your service delivery.
You can also use this solution to gather valuable insights and communicate the necessary improvements to your team. This way, you have real, practical feedback from patients to base your improvement plans on.

Understanding challenges is the first step towards improving patient experiences
After this, your healthcare facility can move towards adopting solutions that will make the entire patient journey better, your staff more productive and your organisation more efficient.
Are you ready to address your patients' most common challenges and improve their experiences at your healthcare organisation?
At NEXA, we understand the importance that your healthcare facility places on providing the best possible service and experience for every patient – every single day.
That's why we're here to help.
NEXA is an Australian company that delivers innovative digital solutions to empower healthcare providers, staff members and patients by taking advantage of digital technology. With NEXA, you can support and enable your team, deliver excellent service levels and thrive in today's evolving landscape.
Do you want to improve your patients' overall impression of your healthcare facility?
Talk to us today to find out how you can make your patient interactions matter.