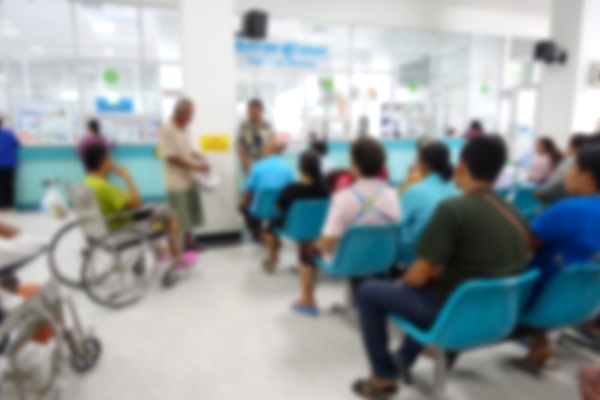 It's 9:40am and you have just parked at your local health care facility for your scheduled 10am appointment in the outpatient department. You have arrived early to make sure that you are ready to see the health care provider on time, hoping that they too are running on time. It's now 10.15am and you are still waiting patiently. 10.30am rolls around and the stress and anxiety of waiting is setting in. You are now questioning how much longer will they be? Wondering if they know you are sitting here, still waiting? Why weren't you told that they were running behind schedule? Do you have enough time to go to the toilet and if you do, will you lose your position in the queue? Why hasn't anyone told you what's going on?
As frustrations build within the waiting room due to a lack of service transparency, patients are naturally comparing their patient experience with the Uber they might have just caught or their experience at the genius bar within the Apple store last week. Even though we know patient expectations are low, every interaction is an opportunity to apply patient-centered design thinking to improve the quality of the service and overall patient experience.
Communication is key and has a direct impact on the patient's experience. Communication errors are the most commonly cited underlying cause of complaints about the Australian health care system. But it doesn't have to be this way.
Now let's rewind… and increase the level of communication with the patient and see what sort of an impact it has on their overall experience with their local health care facility.
You have a scheduled appointment at 10am. You arrive at 9:40am to make sure that you are ready to see the health care provider on time. You check in for your appointment utilising the check in kiosk at the entrance to the facility, and are advised that unfortunately the health care provider is running approximately 30 mins late this morning. If you provide your mobile number you will be alerted when they are nearly ready to see you. Knowing this allows you to have some freedom around your wait time, to make the experience more tolerable. You head directly to the café for a coffee and get a few of your tasks done for the day. Being made aware of the delay, puts your mind at ease because you know that you are checked in for your appointment, your health care provider knows you are within the facility and you can wait patiently in a more comfortable environment. The patient expectation has been set. After 20 mins of enjoying your morning coffee, exploring the hospital, a text message is received, and you make your way back to the waiting area. Before you know it, you are being called into the consult room to see the health care provider complete with a personal apology for the delay.
---
Effective patient communication:

Effective patient communication is essential for delivering quality patient care and building good relationships with patients/consumers based on compassion and shared respect. Patients interact and communicate with volunteers, admin staff, allied health, nursing, doctors, management and occasionally hospital executives. Clear, accurate, and timely communication is absolutely essential to maximizing performance, improving patient outcomes, and optimise service delivery.

---
What patients see and hear in the health care environment is processed against what they believe to be important, in some cases their values, and this directly impacts how they view their care or the organisation. Patients do not typically understand what health care facilities do or all the services they deliver. If information is not provided and communicated effectively to manage patient expectations they will fill in the blanks themselves.
The simple act of keeping your patients informed throughout their journey can have a lasting impact on their overall experience. It's important to acknowledge the value of everyone in the organisation knowing what it's like to be on the other side - to be a patient. Some of the most revolutionary service design shifts have resulted from healthcare providers being 'patients' for the day.
Patients tell us things every day but we frequently fail to listen and reap the knowledge to improve the patient experience. If we take a little time to get to know our patients as people, we will be able to improve our services to meet their expectations.
To find out what is important to patients just ask them! Don't be afraid of the answers. Each patient suggestion or comment is a gift and may lead to significant improvements within your organisation.
In our upcoming webinar, Improving communication between patients and health care providers, we will expand on the importance of service design in healthcare and how it can be applied to break down the communication barriers between patients and healthcare providers.