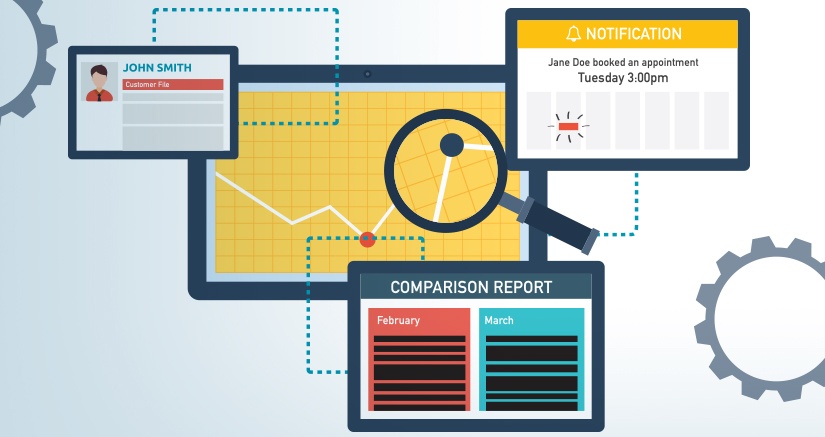 Long, congested lines for services are unfortunately all too common today, as are customer frustrations.
This can be a serious challenge especially when customer interactions are a significant part of a business' operations. Not only does this negatively impact the customer experience, but it also has a detrimental effect on the business in a variety of ways.
Fortunately, customer flow management technology offers an effective way to improve customer flow, benefiting customers, employees, and businesses alike. Here's how to use Customer Flow Management to improve daily efficiencies and the impression you make on everyone who walks through your doors.
An overview of Customer Flow Management
Customer flow refers to the circulation of customers in a business setting such as a store, a hospital, a restaurant and so on. Assessing this flow allows you to map a customer's journey from pre-arrival to post-service, so you can improve it.
Any event in between these times can affect the entire customer experience as well as your processes and, ultimately, your business. For instance, anything that slows this process down can lead to congestion, longer wait times and frustration.
A way to make the customer flow process simpler is by using a queue management system. A customer flow or queue management system is a digital tool that streamlines this process to improve the customer experience across their whole journey.
How does a business benefit from customer flow management?
Queuing is something that today's busy people really despise.
In the event of long wait times, customers may feel that they are being ignored, believe that they are wasting their time and are constantly thinking they should be doing something more productive.
This can cause a negative flow-on effect on your company's reputation, and it's likely that most of your customers will think twice before recommending you to their friends and colleagues.
However, by implementing a queue management system, you can avoid the inconveniences that inefficient queue lines bring, along with making everyone happier with their experience.
Other business benefits of a customer flow management system
Helps you manage staffing levels
When you have enough staff rostered on, you are able to attend to more people and help meet their needs more effectively, which leaves a good impression on them. However, over-staffing can be wasteful and costly.
Most managers who use a customer flow or queue management system find that it allows them to keep track of how many employees are assigned to each area compared to customer numbers, what their responsibilities are, and whether they need to hire more people or reorganise their workload.
Keeps your employees happy
The imbalance of customer to employee ratio can be overwhelming for everyone, especially your team. When employees are overworked, they perform poorly, which can affect how they interact and process the needs of each customer.
A queue management system simplifies the workload so you can ease the stress employees feel. This will support their productivity and maintain a positive work environment.
Reduces congestion and customer confusion
By streamlining the customer flow and service centre operation, wait times are shorter, reducing customer frustrations and congestion in your waiting area.
This will lessen the likelihood of them leaving due to inconvenience and, as a result, boost customer satisfaction.
How does Customer Flow Management work?
A customer flow management tool, such as NEXA's Queue Management Solution, offers several products to help each business department and staff member with assisting customers throughout their queue journey.
These include: 
NEXA OASIS
Foster a great experience from the beginning of your customer's journey. With NEXA OASIS, customers can book appointments online or via their mobiles and receive notifications regarding their appointment status.
NEXA Connect
Manage customer expectations and preparedness by staying in touch throughout the process.
NEXA eConcierge
With NEXA eConcierge, your staff will have direct and mobile access to the queue management system. With an interactive digital dashboard, your staff will be able to assign customers to queues, manage wait times, leave notes and reroute customers- all of which updates your system in real-time for the benefit of your whole team.
NEXA Alert
This product works by sending pop-up notifications to your employees' computers, alerting them when clients are ready for their service. It gives your staff the confidence to focus on the current task at hand while also preparing them to assist incoming clients.
Mobile Q
Customers can manage the entire service process on their own via the app – starting with booking an appointment to providing feedback.
NEXA Voice
NEXA Voice allows customers to provide feedback regarding your services and captures real-time data to help you improve your processes.
Let NEXA help improve your customer flow management
If your organisation is looking to improve the customer experience and operational efficiencies but you're still not sure where to start, NEXA is here to support you.
NEXA is an Australian company that delivers innovative solutions that streamline the customer journey. We offer tailored software that empowers our clients to improve their service by taking advantage of digital technology. With NEXA's suite of solutions, you can support and enable your team, deliver excellent service levels and thrive in today's evolving landscape.
Reach out to us to find out how we can help you to make your customer interactions work.