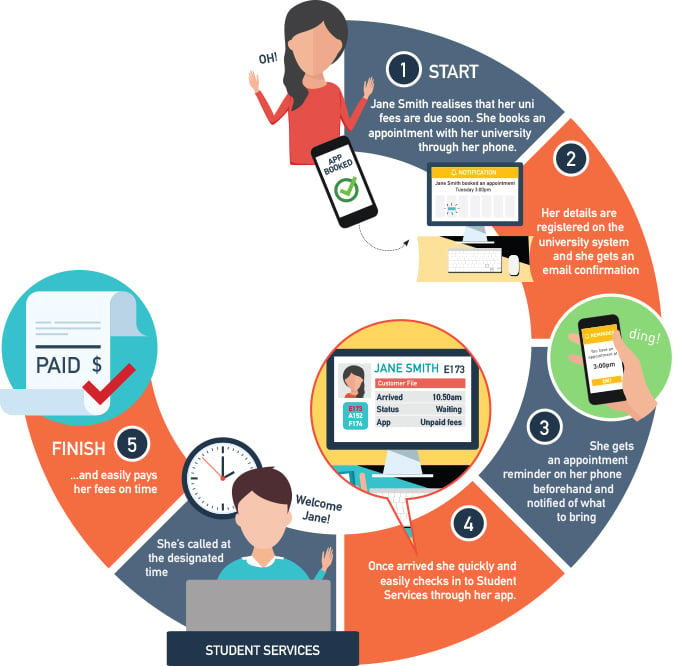 Universities, TAFE and other educational institutions around the country have become increasingly competitive, looking to attract the best students from all over the world. For this reason, school rankings and online student reviews have become more crucial than ever.
Student satisfaction is a key component of these student reviews, as well as other major third-party ranking systems. Keeping this in mind, it's important for universities and TAFE administrators to work hard to reduce student dissatisfaction and provide a great overall student experience.
So, how do we improve student satisfaction levels?
You start by streamlining your student centre experience.
Solving student service centre challenges to transform the student experience
Improving the student centre experience can help remove student frustration and boost satisfaction. This means it's important for student centre administration personnel to address student problems as quickly as possible.
The challenge for many institutions is being able to provide a personalised service to students without making a substantial investment in time, money and resources.
Self-service works in some situations, but not always. Many students still have complex or specific issues that need to be addressed by speaking to a particular resource person.
Fortunately, providing online appointment capabilities and utilising a queue management system can help to streamline student advisory and consultation services.
By employing the right technologies, students will be able to easily see each staff member's schedule and availability. They can also select an appointment time that fits in with their own schedules, eliminating the need to wait for long periods of time.
With an advanced platform, universities and educational institutions can also tailor their processes to their students' requirements, improving efficiency and student satisfaction at the same time.
Defining the ideal student centre solution
What most universities, TAFE and educational institutions need is a solution that combines the advantages of in-person service, online scheduling and self-service with none of the drawbacks.
With today's leading-edge technology, that kind of solution is possible with an efficient queue management system (QMS).
At NEXA, we've implemented numerous innovative QMS solutions across the education industry that have improved student centre operations through in-person interactions. We can help you streamline the student experience while providing more efficient services.
The benefits of NEXA e-Concierge for education institutions
NEXA enables universities and education providers to effectively assist students through an electronic concierge service called e-Concierge.
NEXA e-Concierge enhances your Q-Flow platform to assist staff in managing student enquiries from the moment they walk into the service centre.
During peak times such as enrolment, e-Concierge works as a portable queue management application that allows your staff to easily assign students to queues, organise wait times, leave notes and reroute students – all while updating your queue management system in real-time for the benefit of your whole team.
e-Concierge also supports your team to provide a more personalised service to the students who really need it. In fact, the system can guide the student centre staff in providing students with answers to many of their most common questions, while at the same time identifying additional questions and capturing student interactions.
Other benefits offered by NEXA e-Concierge include:
More efficient staff workflow
Lower staff stress levels
Minimal queues during peak times
Predictable workload for staff
Better student experience
For many students, one of the most frustrating aspects of campus life is dealing with student services, particularly if they think they're in for a long wait.
Long queues can drain students' time and energy, and take away from more important things like studying, socialising with friends or exploring new areas on campus.
So, whether they're lining up to register for a class or to pay their uni fees, what students want most is a streamlined queuing experience.
When a university or TAFE adopts queue management technology, they typically see a dramatic improvement in student satisfaction ratings.
With less time spent in queues, students are more motivated to write positive reviews about their experiences. These positive ratings then attract more students to the institution as well as help them to retain the students they already have.
Through our e-Concierge solution, NEXA can help to bring your institution these same results.
As an example, take a look at our UTS Insearch Case Study, where we were able to help their student centre enhance their overall student experience rating.
To discover more about what NEXA can do for your organisation, contact us today.
Do you need help streamlining your student centre experience?
NEXA is an Australian company committed to helping you deliver the best student experience. Through the power of digital technology and tailored software solutions, we enable you to design services - the human way.
With NEXA's solutions, you can support and enable your team, deliver excellent service levels and thrive in today's evolving landscape.
Our solutions include:
Reach out to us today to find out how we can help you to make your customer interactions matter.