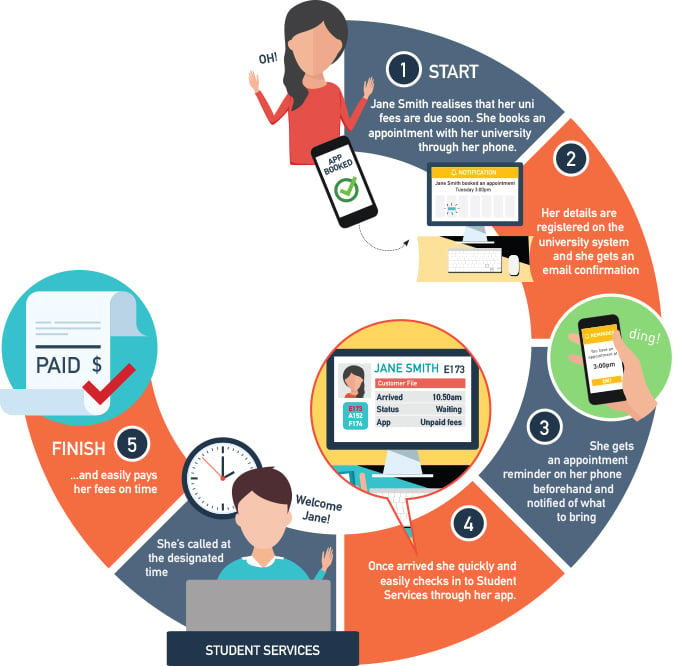 Universities and TAFE (technical and further education) institutions around the country have become increasingly competitive, all wanting to attract the best students. Rankings are crucial, as are online student reviews.
Student satisfaction is a key component of not only student reviews but also in major third-party ranking systems. Reducing student dissatisfaction must be a top priority for university and TAFE administrators.
For many students, one of the most exasperating aspects of campus life is dealing with student services, particularly with long waits. Whether they are lining up to register for a class, to find English classes if they are international students, or to make a payment, students would rather spend their time studying or socialising with friends than waiting in queues.
Solving Challenges to Transform Student Experiences
Streamlining Student Centre experiences can help reduce student frustration and boost satisfaction. Addressing students' problems quickly is important for the Student Centre administration personnel.
The challenge for many universities and TAFEs is being able to provide a personalised service to students, without a substantial investment in time and money in staff resource.
Self-service can work for some situations, but not for all students who have questions about specific matters that they can't find the answers to on the university's knowledge base. Other students may have complex problems and need to speak to a specific resource person.
Once students know what service they require, online appointments can save them time. Students can see each resource person's schedule and availability and can select an appointment time that fits with their own schedules, avoiding the need to wait for long periods of time. This works best for student advising and complex matters.
Defining the Ideal Student Centre Solution
What most universities and TAFE institutions need is a solution that combines the advantages of in-person service, online scheduling, and self-service with none of the drawbacks. With today's leading-edge technology, that kind of solution is possible with an efficient queue management system (QMS) that streamlines students' experiences while providing more efficient service.
Benefits for Students
At NEXA, we've done exactly that for our customers in the education sector. We start with transparency – visibility throughout the student experience from beginning to end.
During peak times, the system's online scheduling system can stagger student appointments throughout the day. The system's mobile app notifies students about their position in the queue and calls them when the resource person is ready to see them.
We provide students with an electronic concierge service -- the 'e-Concierge'. This service manages student enquiries from the outset to help them find the right queue or appointment for the service they need.
During peak times, such as enrolment, the e-Concierge handles routine matters, which allows Student Centre staff to provide a more personalised service to those who need it. The in-house concierge can manage the needs of the students who come into the centre, directing students to the proper queue and bypassing the manual ticket process. Students who don't require a personalised service can utilise the self-service system instead of taking a ticket.
The e-Concierge has several advantages over traditional queues:
It provides students with answers to many of their most common questions, while at the same time identifying questions and capturing student interactions.
The on-site concierge can roam around the Student Centre, interacting with students to help with quick and easy questions.
Benefits to University and TAFE Staff
From the staff's perspective, staggering student appointments throughout the day lessens the load during peak times and frees up time for other tasks during less-busy times. Staff members can also devote more time solving complex issues.
Streamlining students' experiences results in more efficient staff workflow and lower staff stress levels. Staff see students at planned times, allowing them to give full attention to each matter. Rather than experiencing long queues during peak times, and unpredictable workloads at other times, staff know when they'll see students and when they can plan other work. Lower stress levels and higher job satisfaction from a more efficient and predictable workload will lead to less staff absenteeism and higher retention rates.
Improved Student Satisfaction Ratings
When universities and TAFEs adopt QMS technology, they see a dramatic improvement in student satisfaction ratings. With less time spent in queues and more time to study and make friends, students will want to write positive reviews about their experience. Those improved ratings will likely attract more students to the institution and help them keep the students they have.
QMS can likewise streamline customer experience for organisations in all sectors.
To discover what QMS can do for your organisation, download our UTS Insearch Case Study to read how the Student Centre achieved 71% satisfaction rating.