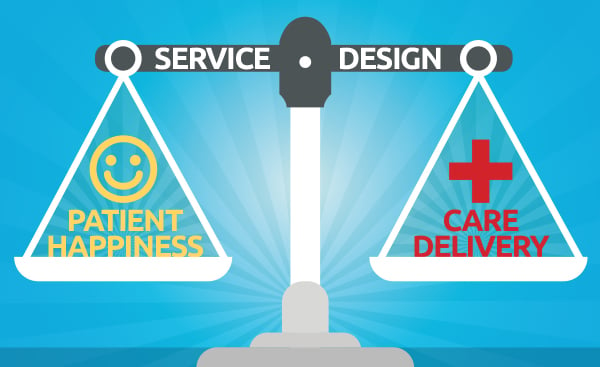 Providing a positive patient experience is a growing concern in the healthcare industry.
The "patient experience" encompasses everything they interact with throughout their journey, and all of this has the power to influence their perception around the professionalism, quality of care and trustworthiness of a healthcare provider.
For this reason, providers are now designing healthcare services with patient satisfaction in mind. They're aiming to deliver a more pleasant experience and better health outcomes at the same time.
It's important to remember, however, that defining the patient experience requires a balanced consideration of both patient satisfaction and the effective delivery of care.
So, how can you get this balance right and provide the optimal patient experience?
Achieving the right balance for patients
One of the common misconceptions in the healthcare industry is that the patient experience should be focused predominantly on healthcare alone.
While it's true that the safe provision of effective healthcare is paramount, your patients' satisfaction also matters – especially today in the modern world of instant gratification. You don't want treatments to feel laborious or cumbersome.
The general public's rising expectations of healthcare services means that every provider must take steps to improve their patient interactions. This includes addressing any shortcomings, such as the ability to integrate and streamline the flow of patient information between clinics, waiting times, appointment convenience and more.
For now, though, let's start with the basics, and consider providing care that addresses every aspect of a patient's needs and requirements – physically, mentally and emotionally.
Finding the right balance is possible
Many healthcare providers are doing this successfully.
For instance, Cleveland Clinic's patient experience model demonstrates that it's possible and even advantageous to provide patient satisfaction while still ensuring that their overall health is at the forefront.
Their empathetic and innovative practices can be used as inspiration when looking to transform internal service design to deliver valuable care and enhance your patients' experience in the process.
Demonstrating care, compassion and open communication
Generally speaking, considering the patient experience has been an underutilised idea for improving healthcare services for many years. However, growing evidence points towards patients now looking for excellent, streamlined service as a highly important factor around their perception of a positive experience.
This shows that healthcare providers who connect personally with their patients and who consider their service process goes a long way. In other words, people don't just want excellent health outcomes – they want good customer service, less inconvenience and excellent staff communication.
This puts patients' minds at ease, as it eliminates confusion and makes receiving care less daunting.
Creating a positive environment for staff-patient satisfaction
The key to improving service design when it comes to patient satisfaction levels revolves a lot around your teams and the systems that support them.
Optimistic and friendly employees help to define a positive patient experience. Not only does this kind of environment help patients and providers connect on a personal level; it also allows patients to feel more comfortable asking questions, leaving them feeling informed and respected.
More than anything, providing a positive patient experience also empowers your staff to feel fulfilled and satisfied with their work as well.
Service Design leads to a better patient experience
At NEXA, we believe in human-centred service design.
Excellent service design ensures that all aspects of a patient's healthcare journey make them feel valued and respected. It involves creating a positive environment for patients, staff, carers and volunteers through effective communication and the recognition of needs.
Coupled with safe and high-quality care, service design minimises patient dissatisfaction and enables you to deliver a holistically pleasant experience – every time.
To improve your patient journey and achieve high levels of customer satisfaction, it's important to regularly assess, enhance and innovate your service design in line with the evolving requirements of your patients, staff and other stakeholders.
With NEXA's solutions, you can support your team, deliver excellent service levels and thrive in the ever-changing healthcare landscape.
NEXA are experts in Service Design: let us help you help your patients
NEXA is an Australian company committed to helping you deliver the best customer experience. Through the power of digital technology and tailored software, we enable you to design services – the patient-friendly way.
If you need assistance improving your service design and processes, NEXA can help.
Our team can equip you with innovative solutions that streamline your customer journey and improve the overall experience for every user. Together, we can keep your customers, staff and all stakeholders satisfied and fulfilled.
Reach out to us today to find out how we can help you to make your customer interactions matter.