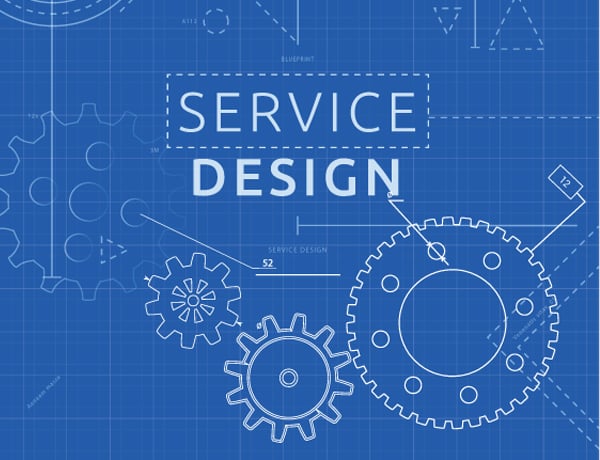 When a medical facility's operations are running well, it's easier to deliver a great patient experience from start to finish.
That's because when staff are well-supported and have the tools and training they need to succeed, then service delivery is more streamlined, making the patient journey simple.
Conversely, a poor patient experience is often indicative of internal system shortcomings that need to be addressed. With the ongoing global pandemic and the importance of quality health outcomes, ensuring patients have a fulfilling journey with you is a top priority.
This is why healthcare providers are now mapping out their processes to provide valuable insights into what is occurring behind the scenes. By doing this, they have the ability to refresh and restructure the service approach to improve internal efficiencies and gain better results.
This is where service design blueprints come in.
What is a service design blueprint?
A service design blueprint is essentially the patient's journey, mapped out from start to finish, with all of the supportive services included, showing the role each play at every stage.
For instance, the first patient step may be their interaction with the clinic when looking to book an appointment. So, at this initial touchpoint, the service blueprint would detail how the patient can book the appointment, such as calling or booking online, as well as what the systems and staff do at this point – and so on.
Why conduct a service design blueprint?
By spending the time mapping out the entire patient journey, it's easier for your team to see where the best service is being provided and where improvements need to be made.
For example, if staff are experiencing a lot of no-shows or cancellations, the blueprint may help identify the typical challenges so they can be addressed. This may include a problem with a lack of automated appointment reminders or the online booking system not confirming dates with patients.
A service design blueprint shows all of the systems and staff activities that support the patient journey so that these "behind the scenes" events can be identified and improved.
Getting things right behind the scenes
Much like in theatre, all activities observed or undertaken by patients are considered the 'front stage', whereas the backstage processes that they are unaware of are considered 'behind the scenes'.
Interactions with staff make up a significant portion of the patient's front stage experience. For instance, happy, calm and communicative employees who are efficient at service delivery make the patient journey more enjoyable.
However, happy staff on the front stage come from good workplace morale, which is a reflection of what is happening behind the scenes. So, when there's internal dysfunction, typically, a poor patient experience usually follows. This is because stressed, confused and uninformed staff can make patients feel uneasy. In a case like this, it's essential for organisations to rethink their service design for the benefit of everyone.
This is where the service design blueprint can help. When you can identify where the problems are occurring, you can start to address them to improve the overall patient journey.
Rethinking the service delivery process
Healthcare tends to be a high-pressure environment. So, mapping out a service blueprint can give your team more control. This includes breaking down the people, processes and resources that make up the patient experience. From here, you can start to determine points of weakness within the patient service journey and adjust parts of it accordingly.
Take, for example, unnecessarily complicated procedures or poor communication with queued patients in the waiting room. These are typical backstage problems that are easily rectified by reconsidering your service design.
This means that if patients are complaining about waiting times, the service design blueprint can show that there is a lack of proactive comfort being provided during this time. Your team can then rectify this by implementing automated queuing systems to communicate approximate wait times so that patients can manage their own wait experience and advising when it's appropriate for them to return to the waiting area.
Translating this to the patient journey
Clear and timely communication is often all it takes to alleviate unnecessary pressure from all users of a healthcare service – including support staff, patients and medical professionals. Mapping a service design blueprint can highlight potential roadblocks in the backstage process, so the front stage activities can run more smoothly.
Providing excellent customer service in any industry is no easy feat – and healthcare is no different. But there are ways to streamline the process and make the process easier both for the employees working behind the scenes and the patients receiving the services on the front stage. Improving the patient journey always starts by having clear insights into your operations and the roles of each of your team members, so together, you can manage the patient journey.
Therefore, if you want to streamline the process for the benefit of both your patients and your team, it's important to map out a service design blueprint for your healthcare organisation.
Do you need help with creating your own Service Design Blueprint?
If you need assistance with rethinking and mapping your processes, NEXA can help.
Our team can equip you with innovative solutions that streamline your patient journey to improve their overall experience and health outcomes.
NEXA is an Australian company committed to helping you deliver the best patient experience. Through the power of digital technology and tailored software, we enable you to design services – the human way.
With NEXA's solutions, you can support and enable your team, deliver excellent service levels and thrive in today's evolving landscape.
Reach out to us to find out how we can help you to make your patient interactions matter.