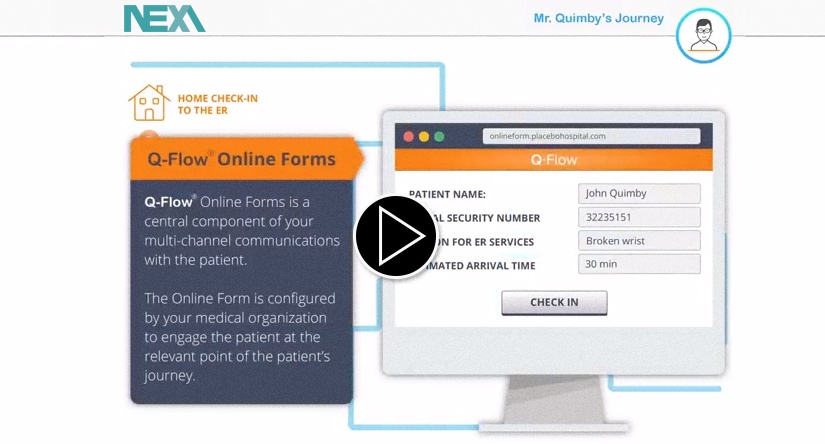 NEXA's Queuing solution for the emergency department streamlines the patient journey and enhances the visitor experience. To better understand just how this works, watch this video which highlights Mr Quimby's visit to the Emergency Department (ED) for his broken wrist.
Mr Quimby checks into ED from home, or another location en route to the hospital using Q-Flow's online form.
Online forms is a central component of your multi-channel communications with the patient. The online form is configured by your medical organization to enhance the patient at the relevant point on the patients journey.
Mr Quimby receives a text message confirming the ED is expecting him and it contains a link to click on when he gets to the hospital.
Q-Flow connect is the main multichannels tool for interacting with your patients, it enables 2 way notifications, reminders, alerts and any other communications requirements.
On arrival at the hospital, Mr Quimby clicks the link and opens up his appointment details with his patient number, estimated wait times and more.
myVisit is a robust and flexible online and mobile platform for appointment scheduling and visit management as an integral part of the patients' journey.
This clear messaging and wait times give the patient control of how they use their time and manage their expectations. Plus instead of just waiting in the waiting room, they are more likely to spend money in the coffee shop, café or other retail outlets in the hospital.
Once in the triage area, there is digital signage to inform the patients of their appointment status and they can enjoy some media content to alleviate some of the waiting pains.
Q-Flow Digital Signage. When arriving at the facility, Q-Flow Digital Signage enables patients to be informed on status, place in queue and enjoy media content.
In the back end, the ED care givers have complete transparency as to the patients waiting and their records and can update the patient status in real-time.
Q-Flow Care Path Automation streamlines the patients journey steps into smart, optimized workflow based on your business needs. Accompanied by an SLA engine that lets you track patient flow, as well as detect and solve your bottle necks in real time, Q-flow Care Path Automation revolutionizes visit management and reduces operating costs.
When Mr Quimby is ready to be seen, he receives a text message to tell him where to go, what to expect and what he should do next. Mr Quimby makes his way to the X-Ray room where he is met by a clinician who knows he is going to attend to Mr Quimby's broken wrist.
Mr Quimby then makes his way to the Orthopaedic Physician Service as per his text message and waits there until the clinician is ready to see him.
Q-Flow is a fully web interfacing application enabling flexibility in integrating its activities and functions with any EMR. For example, enabling caregivers to view and update a patient's record while keeping the focus on the patients journey management.
At any given moment, Mr Quimby's EMR is up to date as his patient journey is recoded in real time. Mr Quimby then receives a text message to let him know to proceed to treatment room 2 for his cast.
Q-Flow Mobile Console enables care givers to manage the patient journey on the go which improves patient care by making patient journey management accessible to all involved. Flor the clinician, he can simply press a few buttons on the console to discharge Mr Quimby and call the next patient.
After Mr Quimby has been discharged, he receives a text asking him to participate in a quick patient survey to ensure his and future patient journeys are optimal.
Q-Flow Integration Services support HL-& based communications to harmonize vertical solutions with patient journey optimization.
We suspect Mr Quimby will rate his experience as excellent after his seamless visit to the ED. If you are interested in enhancing your patient journey, contact NEXA today.