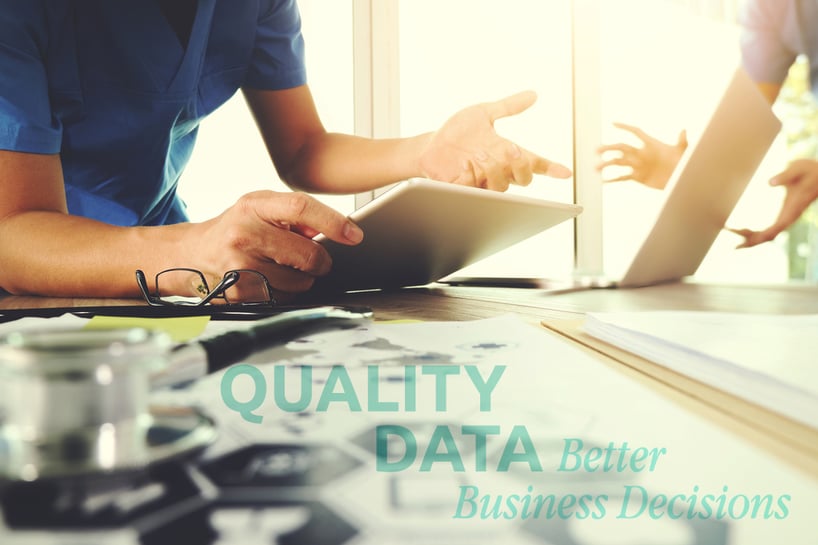 All service-based organisations want to improve the client experience.
However, how do you make the right adjustments to make that a reality? It requires making decisions around processes, systems, people and service delivery.
While some people like to believe in the power of intuition to make critical decisions, in business, where the stakes are high and processes are complex, trusting this alone can be risky. Gut instinct may work in some scenarios, however the majority of business decisions need to be based on facts, figures and metrics that all tie in with your goals.
Fortunately, today's digitally-rich landscape allows every business the opportunity to leverage the wealth of data that's available. By using the right data to assist your service improvement process, you can enhance your customer's experience, while also improving other associated factors like revenue and productivity.
Here's how data empowers better service design decisions.
What is data-driven decision making?
Data-driven decision making is the process of working towards key business goals – in your case, improvements in service delivery and customer experience - by leveraging verified, analysed data rather than relying on guesswork.
Data-driven decision making provides business leaders and decision-makers with the capabilities to generate real-time insights and predictions to optimise their performance. As a result, they can test the success of different strategies and make informed business decisions to attain sustainable growth.
However, it's important that you are set up to extract the right information from your data that is genuinely valuable. In order to do this, gathered data should be both accurate and relevant to the goals that you want to influence using it.

4 reasons why data is important in service business decision making
When it comes to making key decisions around improving service delivery and the customer experience, the first place to look is at your numbers and the insights they provide.
To better understand how your organisation can incorporate data analytics into your decision-making process, here are 4 reasons why having the right data is so important:
1. It enables you to make more confident decisions.
Since data is logical and intuitive, you can be more certain about taking the next steps based on their insights. For instance, if you're trying to decrease wait times in queues, you don't need to assume or guess how long people wait on average.
You can access the latest wait times for your customers over the past month and then set reduction targets along with associated strategies to drive those times downward, contributing to improving the customer experience.
2. You can check on your progress
Similar to the above, having access to data allows you to assess the effectiveness of your previously implemented strategies. Going back to improving wait times, if you put on more staff during peak times, and then reflected on the data after a month, you can see if that business decision was effective at actually reducing the waiting time and by how much.
In addition, you can also compare this to revenue generation and staffing cost data during that same period to determine if this approach is sustainable or needs further thinking.
3. You'll become more proactive rather than reactive.
Having the right data can tell you an important story which you can then use to map out a comprehensive plan to improve your service delivery. For instance, you don't need to wait for an issue to make service design adjustments – you can observe data insights around average customer reviews and then make a proactive plan over the next 6 months to get your rating up.
Data-driven insights help you identify business opportunities, detect customer journey flaws, identify weaknesses in your service, and proactively take necessary actions and adjustments before they grow into serious problems.
4. Having the right data can help improve the overall customer experience.
Tracking data about your customers and their interactions with your brand helps you gain a better understanding of how your organisation is doing in regard to their overall experience.
The right set of data also enables you to personalise experiences to match different customers' preferences and respond quickly, which is becoming increasingly essential in today's digital and fast-paced landscape. Customers naturally want quicker responses to their queries, less wait time and more convenience.
What is your data saying about these factors?
This is where NEXA can help.
Our customer experience solutions and service design consultancy service enable organisations of all industries and sizes to optimise each aspect of their client journey and improve their operational efficiencies to deliver a positive outcome every time.
NEXA's service design leads to better service delivery
At NEXA, we believe in the power of service design.
That's why, together with your team, our experts take a consultative approach to assess your current processes and identify opportunities for improvement. We work closely with you to optimise your organisation's operations, gather the right data and redesign your services to ensure that both your customer and employee experiences are taken to the next level.
If you'd like to learn more about service design and how it can improve your company's overall performance, download our FREE Service Design eBook.
Improve your customer experience by harnessing the power of data.
At NEXA, we understand that having the right customer data allows you to make well-informed decisions about improving the customer experience.
NEXA is an Australian company that delivers innovative digital solutions to empower both our clients and their employees by taking advantage of digital technology and data. With NEXA, you can support and enable your team, deliver excellent service levels and thrive in today's evolving landscape.
Do you want to experience the benefits that come with integrating NEXA's customer journey solutions into your business?
Talk to us today to find out how you can make your patient interactions matter.