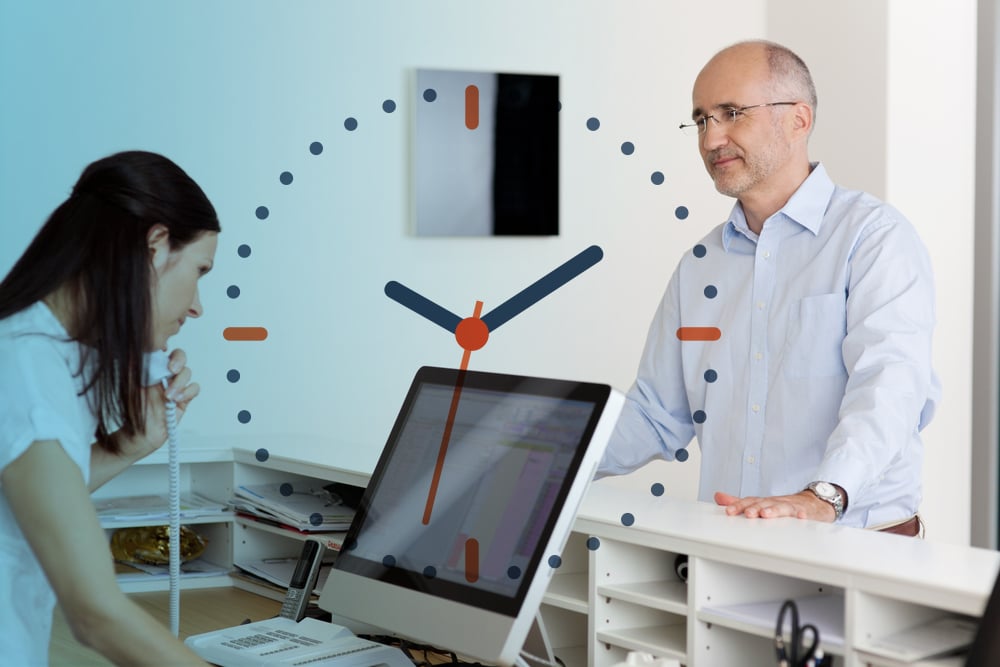 Running a successful clinic can sometimes feel like a balancing act, especially when it comes to managing patient expectations and communicating appointment delays.
In our previous article, we highlighted a few of the challenges healthcare providers face when communicating wait times to patients, and in this piece, we'll offer our recommendations for tackling these hurdles with solutions such as electronic reminders, late arrival policies, self-scheduling, and patient portals.
The benefits of communicating wait times with patients
We understand that not everything that happens inside a clinic is within your control - and ultimately, your patients will too. Unexpected delays are an inevitable part of our professional lives, but the perks of being transparent about them can go a long way towards building trust and putting everyone's mind at ease.
Communicating wait times clearly and quickly not only manages your patients' expectations, but it also keeps them informed and in control of how they spend this time. It may be the difference between a patient watching the clock or making better use of this downtime with a podcast, reading a good book, or even deciding to reschedule their appointment.
Implementing practical solutions
There are many accessible and easy-to-implement solutions to help facilitate clearer communication between your clinic and its patients. Leveraging the abundance of technology at our disposal has the potential to create more positive and convenient experiences.
Something as simple as automated email or SMS appointment reminders will decrease instances of no-shows and alleviate the pressure to overbook. Upon receiving their reminder, patients who are unable to make their appointment can notify your clinic through SMS, giving you time to make adjustments and open up the time slot for another patient. These reminders can be used to reduce missed appointments and last-minute cancellations that will save you time and stress!
Late arrival policies
Unfortunately, patient tardiness can disrupt your carefully balanced schedule. Often, patients arrive late to their appointment yet still expect to be squeezed in, which may lead to a waiting room pile-up. To avoid this, set the expectation from the get-go by informing all patients of your late arrival policy when they first book their appointment. This places the onus on patients to arrive on time and will hopefully help reduce the number of disgruntled people in the waiting room.
Honesty is the best policy
When a delay is brought to your attention, the best thing you can do is promptly notify any patients who may be affected. All it takes is a sincere apology and explanation - to make your patients feel informed and their time respected.
Self-service can be empowering
Online tools such as self-scheduling and patient portals can empower patients by allowing them to view available clinicians and appointments online and choose the option that best suits their needs, from the convenience of home. Online check-in solutions also allow patients to wait for their appointment in a more comfortable setting (like a café) until they receive an alert inviting them back to the waiting room when their clinician is almost ready to see them – freeing up space in the clinic and giving patients greater control over their environment and waiting experience.
These tools can also perform as a platform for rescheduling, reminders, pre and post appointment questionnaires and online check-ins. Not only will this save significant administration time, but it also gives patients the flexibility to manage appointments around their busy schedules.
Create a feedback channel
Collecting feedback after an appointment is a great way to continuously improve the patient experience and the efficiency of your clinic. It can also make the patient feel valued, knowing that you are listening to and acting upon what they say. Positioning yourselves as a clinic that has your patients' best interests at heart will create loyalty and a more fulfilling experience for all.
Educate to understand
Fortunately, the obstacles surrounding wait time communication are easier to navigate than they may appear. While adopting all the solutions above may not be realistic, all clinics can take steps towards more open patient communication.
Embracing technological measures such as automated reminders, self-scheduling, and patient portals promise to create more convenient user experiences, taking the pressure off everyone involved. However, the real solution lies in understanding the value of transparency.
Patients deserve to feel in the know, and often, keeping them informed of expected delays is more important to them than the length of the wait itself. Hopefully, this kind of open communication will also help them to appreciate some of the challenges healthcare providers face when running a busy clinic!
If you'd like expert insight into how best to build trust, understanding, and recommendations for communicating wait times with the patients in your clinic, reach out to NEXA today.