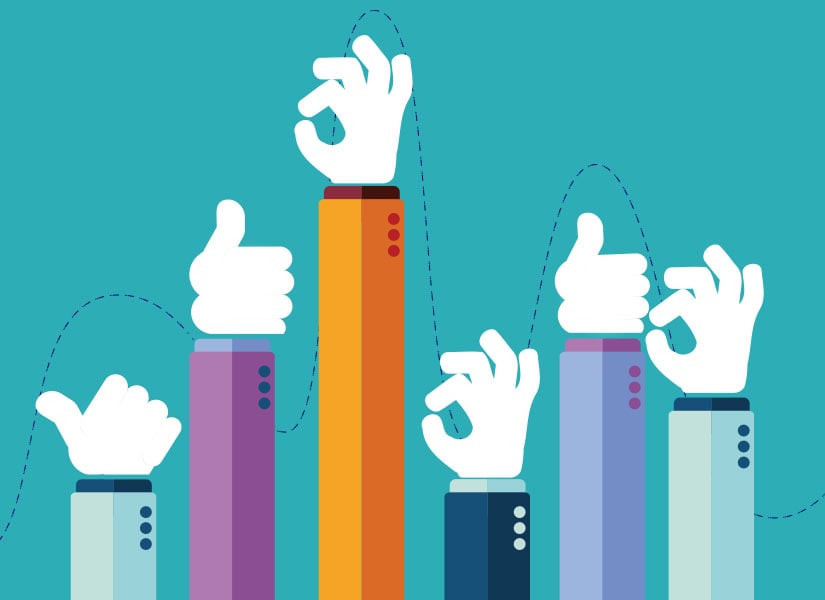 Today, customers are taking more control when making choices and brand loyalty is becoming less important to them.
So, if you keep customers waiting in queues and leaving them frustrated, they can easily Google your competitors and source other providers who can offer your services instead. As a result, businesses need to focus on delivering the best experience to gain a competitive advantage.
How? Well, here's a tip: it pays to make sure your customers are happy at every stage of the process.
Knowing your audience is the key to making them happy
Of all the tips about customer management and customer experience you will read, make sure that this one sticks: know your audience.
Without extensive research into your target audience, you cannot succeed at catering to them.
You can either enlist the help of a professional firm or conduct your own email surveys. Through these, you can get customer data that will inform you about your customers' journeys and their needs – starting from their initial contact to return visits and aftercare.
Part of knowing your audience also means having a complete view of their experience on-site. Remember - website traffic is important, but foot traffic and online data are imperative.
For example, find answers to the following:
"How long does it take for a customer to be seen once they walk through your doors?"
"What time or day do you experience the largest volume of customers?"
"What is the average wait time?"
"Is there a large walk-out rate after a certain period of time?"
You can see how these insights can help you make more informed decisions about improving the customer experience.
For instance, if you have data that tells you that 20% of customers leave after waiting for more than 40 minutes, you can look at ways to reduce times to get under that mark. Or if you notice that Tuesdays are busier than any other day, you can work on increasing staffing numbers on Tuesdays.
Researching your customers is the recipe for success. By understanding your clientele, you can effectively address their requirements and provide a better customer experience that will leave them smiling.
How to optimise customer data to improve the customer flow
Once you know your audience and their queuing habits, you can now reassess whether various touchpoints are adequately meeting their needs.
Here are some of our tips to enhance your customer flow:
Align your website and physical journeys with the path that your customers are looking for.
If you already know that the optimum online experience is, say, one content-driven page, followed by a product page with a strong call to action, don't waste your customers' time making them have to hunt around through other pages.
Similarly, if your customers consistently drop off after a wait of more than 20 minutes, make sure to reduce wait times and deliver faster services.
Use your knowledge of the customer to improve the way that you market to them.
For example:
• Can you segment emails further and talk more personally to smaller groups?
• Should you geo-target social media ads to be more effective?
• Will people wait longer if you improve the check-in method in-store?
• Will using text alerts improve the waiting experience?
Make sure to address these kinds of concerns using the data you have gathered from market research. You can also look for solutions that will help you automate processes and optimise customer experiences on-site.
At NEXA, we have innovative solutions that streamline the customer journey. We'd be happy to show you more.
Feed the information back to frontline staff.
Long wait times negatively impact a manageable customer flow. As such, it's important to keep your staff involved when improving the processes of queueing and service delivery as they'll have a lot to contribute.
After all, they are the ones who directly deal with customers and they have first-hand experience into what's causing inefficiencies and bottlenecks.
Here are some key takeaways
Being customer-centric is the way forward for any business.
By making customers the priority, you will be able to foster stronger relationships, establish brand loyalty and achieve excellent results.
To succeed in making customers happy, keep these things in mind:
A little knowledge never hurt anyone - gather as much data as you can on your customers so you can make smart decisions.

Don't make customer journeys any longer than they have to be.

Put your customer hat on and try to experience things from their perspective.

Be ready to dive into the data you have and respond to customer challenges accordingly.
You can also seek the help of experts like us to help you improve queueing and other service processes. Our team at NEXA are passionate about improving things like customer flow, so just give us a call if you'd like to have a chat with us!
We can make your customers smile at you.
Do you need help in improving your customer flow management?
If your organisation is looking to improve the customer experience but you're still unsure of where to start, NEXA is here to support you.
NEXA is an Australian company that delivers innovative solutions that streamline the customer journey. We offer tailored software that empowers our clients to improve their service by taking advantage of digital technology. With NEXA's solutions, you can support and enable your team, deliver excellent service levels and thrive in today's evolving landscape.
Reach out to us to find out how we can help you to make your customer interactions work.