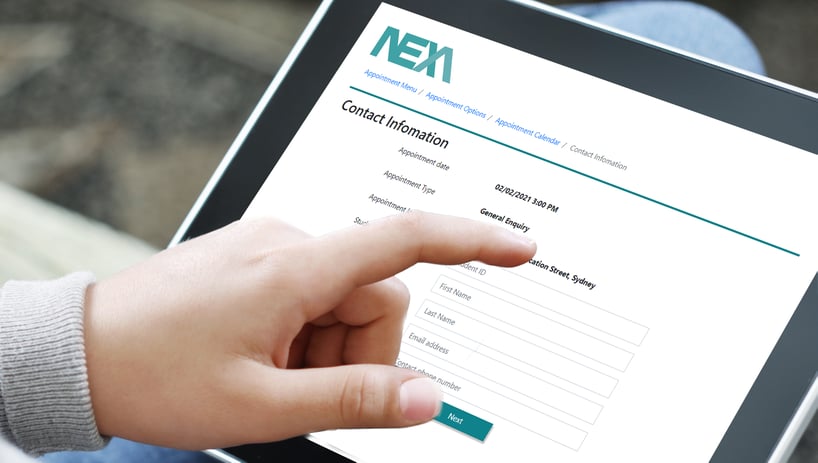 Being time-poor has become the norm today.
People have never-ending to-do lists and tight schedules every day. These people are your customers, and given how packed their calendars are, they expect businesses to allow them to book appointments conveniently on the go.
Whether they want to book a doctor's appointment, make a dinner reservation or schedule time to come in for a service, they head to your website to search for a way to slot you into their calendars.
With the availability of digital technology, you can now offer that convenience to them, where they can go to your page and lock-in times that work for both them and your business.
Here's how, with an online appointment booking solution.
Taking customer experience to another level
Gone are the days where people rely solely on phone calls to book appointments.
No matter what industry or service, people expect to be able to head to your website and schedule their visit in.
If you're a business that offers bookings, appointments and reservations, having an automated software solution to manage and organise appointments online will not only streamline your operations but also provide your customers with a better experience from the very start - before they even visit you in-person.
An online appointment booking solution like NEXA OASIS provides this intuitive functionality on your website while managing everything from detail collection to integrating with your business' calendars.

How does NEXA OASIS help with online appointments?
All businesses want to offer their customers a simple and fast way to book their services online. If you make it easy, people are more likely to schedule a time and keep it.
That's why we developed NEXA OASIS.
NEXA OASIS (Online Appointment Scheduling Information Solution) is an online booking solution that works in conjunction with Q-Flow. It offers your customers the ability to book an appointment for a specific service at a specific location and time.
As an enhancement to Q-Flow®, NEXA OASIS lets you input all dates and time slots, so your customers are presented with all available appointments to choose from.
After successfully scheduling their chosen appointment, OASIS will provide a Booking ID number that allows customers to check, change, update or cancel their booking. This means they can manage their own booking without having to call or wait.
The benefits of an online appointment booking solution
To understand how NEXA OASIS can improve your business, here are some benefits it offers:
Your staff can become more efficient – With appointments being managed automatically and less time needed for manual phone bookings, your staff have more time to focus on quality customer service. NEXA OASIS also allows your team to manage their workload according to customer flow numbers.


Deliver a better customer experience – Making appointment scheduling easy and hassle-free for your customers gives them an enjoyable experience with your business before they've even set foot in your premises.


Better attendance rate – As your customers are setting their own times, they'll take more responsibility for attending. Additionally, with NEXA Connect, you can send automatic emails and SMS notifications with confirmations, alerts and reminders to prompt them.


Reduce the risk of errors – Scheduling times and dates through an online booking solution prevents miscommunications that can occur over the phone or when taking appointments manually.
The business features of NEXA OASIS
NEXA OASIS also provides two additional features that can help improve your business' results.
Synchronise with your CRM System
When clients check-in, either online or at the kiosk, their personal information links automatically to your system. This can update their details and immediately provide your team with all the information they need to better serve the customer, such as patient history or their past customer account.


Data Collection
Every time NEXA OASIS is used, it uses automation to collect data which can then be interpreted to provide useful insights in making business decisions. For example, tracking no-shows, cancellations and appointment duration, as well as wait times can be saved and used to check return on investment (ROI) for each service and potential areas to make improvements.
Optimise your business with a complete online booking solution
While NEXA OASIS provides you with an online appointment booking system, we have also developed related solutions that can offer a complete suite of features:
Mobile Q is also an enhancement to Q-Flow® and offers a virtual queueing option for your clients. This means they can be in line for your service by checking in via their mobile device but not have to physically wait in a room.



NEXA Connect works together with NEXA OASIS and sends automatic messages to confirm appointments and reminders.
Having Q-Flow as your system's backbone, NEXA OASIS to manage the appointment scheduling, NEXA Connect to send alerts, and Mobile Q allowing customers to queue anywhere, you can completely transform the way your business manages customer appointment scheduling and management.
Want to know more? Visit our NEXA OASIS page for all the details.
Let's make online appointment scheduling easy with NEXA OASIS.
At NEXA, we're focused on delivering innovative solutions that streamline the customer journey and improve internal efficiencies.
With Q-Flow® and NEXA OASIS, we'll help you deliver the best experience for your customers and allow your team to become more productive.
Contact us today and we can discuss your needs.