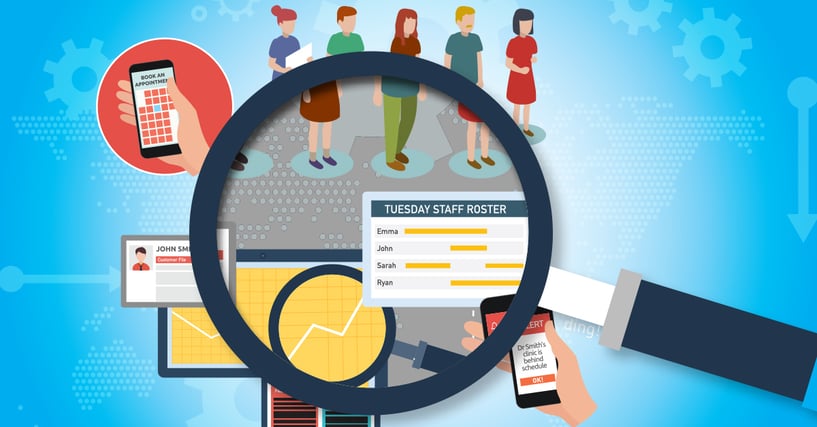 Australia's health system is one of the best in the world, but there are still many opportunities for improvement. The emergence and growth of hospitals is just one indicator of the importance of understanding and improving the patient journey. Consider the amount of time it takes a patient to check in for an appointment, and how this one element can have a domino-effect on both their, and their carer's, entire experience. Capturing the patient journey provides actionable insights, in turn allowing healthcare providers to improve and optimise processes in the aim of delivering exceptional patient experiences.
An average day in Australia's health care
Medical treatment in Australia continues to grow at a rapid rate. Each day there are more than 50,000 hospitalisations and presentations to public hospital emergency departments – that's a staggering 18.4 million in just one year (source: AIHW.gov.au). With each one of these hospitalisations and emergency room visits is a mountain of data – commonly referred to as "big data". Understanding the patient journey can be a monumental task without the right systems in place.
Why understanding the patient journey is so important
There is a vast array of benefits that come from understanding the patient journey. Patient journeys provide insights into the patient experience, allow us to see the current state of systems and identify opportunities for improvement and innovation. Each touchpoint within the journey can be mapped, analysed and improved upon, in turn allowing healthcare providers to work towards delivering the best patient experience possible.
Whilst patient experience is of utmost importance, so too is the ability to improve operational efficiency. By tracking the patient journey comes the ability to provide auditability, accountability, visibility, report ability and historical data to the business. By integrating with other core systems already in use, clinic administration, nurses and clinicians can have complete visibility of a patient's status and location.
Benefits of capturing the patient journey
The benefits of capturing the patient journey can be significant and varied. However, these are only attainable if the data captured is effectively analysed and leveraged to support improvements. Some of the most significant benefits are:
· Improved efficiencies within departments and services
· Streamlined business reporting and audit capabilities
· Timely and effective communications with the patient
· Improved administrative efficiency and management transparency
How to capture the patient journey
Whilst each healthcare organisation is unique, the underlying requirements are the same. When assessing patient journey solutions, it's important to consider all aspects of the systems including their ability to be tailored to your organisation and integrate with existing systems. A critical first step in establishing a patient journey solution is preparing a process map. These are an effective way to identify constraints and bottlenecks, rework (where activity is required to correct avoidable mistakes) and unnecessary process steps such as duplication, waste and error.
Some of the key components within a robust patient journey solution include:
· Flexibility and customisation
· Task and workflow support
· Business process management
· Patient notifications
· Patient feedback
· Reporting and analytics
· Integration with existing systems
· Align with existing regulations, procedures, resources, staff and SLAs
Improve healthcare employee satisfaction
An effective patient journey solution allows the opportunity to minimise paperwork and reduce pressure on staff. Implementing a solution that can effectively address each step of the patient journey allowing improvement in patient experience and enhance operational efficiency is just one aspect. The other is the ability to implement the solution and minimise resistance from clinicians, nurses and staff.
Change is often met with unease, so managing any transition needs to be done so carefully – particularly in healthcare organisations where patients are often already feeling vulnerable.Demonstrating the solution's ability to improve productivity and enhance the patient experience ultimate result in a knock-on effect. That is, if patients have a more positive experience, they are more likely to treat staff more positively. Conversely, extended wait times, missing/inaccurate information can all lead to unhappy patients and even offensive behaviour towards staff.
Automation is the way of the future
With unprecedented increases of patients being seen in many clinics, the need for an efficient patient flow solution is essential. Implementing automated solutions allow for efficient and effective management of both existing demand and future growth. By analysing key measures such as patient wait time, appointment confirmation rates and consult times, operational teams are able to asses and streamline processes and improve efficiencies.
We live in a digital era, where time is a precious commodity. Patient journey flow solutions allow for patient wait times to be dramatically improved – in fact Gold Coast University Hospital saw their patient check in wait times decrease from 20 minutes down to just 30 seconds. NEXA's Patient Journey solution enables facilities of all sizes to optimise every aspect of their patient's journey, delivering a positive patient experience and improving operational efficiencies.
Capturing the patient journey allows a more complete view of the patient experience and the ability to leverage insights to undertake improvements. Effective patient journey solutions allow not only streamlined processes, but also potential cost savings and risk minimisation within healthcare organisations. With continued growth and competition within the healthcare sector, ensuring a positive patient experience is critical. Leveraging insights from patient journey data allows continuous improvements in business processes, clinical treatments and more.
Integrating new and existing technology
NEXA's Patient Journey solutions are revolutionising the way our under-pressure Healthcare system deals with and treats patients – at every touchpoint of their journey.
Using innovative technology, we can now connect patients and staff with up-to-date information, in real time, to provide a smoother passage from pre-admission to treatment and finally to discharge.
By fully integrating workflows, your entire organisation can move forward in unison, utilising all available resources and managing expectations.
Easy to implement and backed up by our ongoing support structure, NEXA's Patient Journey solutions are breathing new life into our healthcare system.