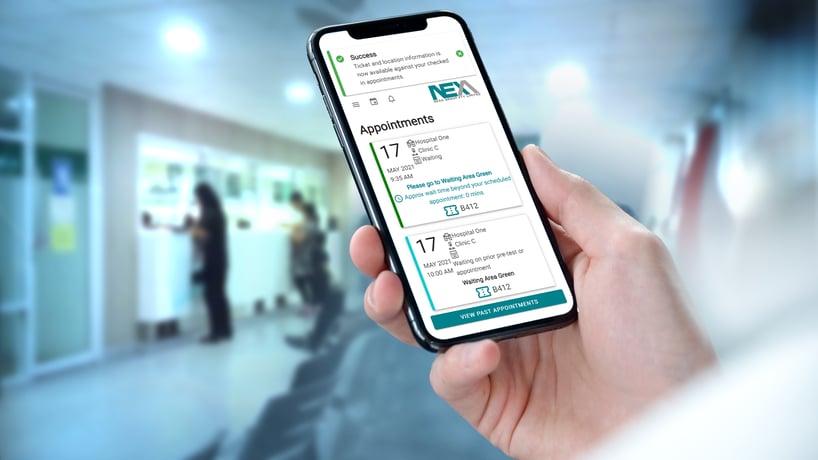 Attending an appointment for a healthcare provider is an essential step in addressing health and medical needs. That's why it's so important for patients to never miss their clinic visit and be well informed when to come back for their next check-up.
However, people are busy and they're looking for more convenience. So, how can hospitals and healthcare facilities support them?
Technology is the best solution here.
With NEXA Visit, hospitals, medical centres and clinics like yours now have a better way to manage outpatient appointments for the benefit of everyone.
NEXA Visit is a mobile solution that connects patients to your respective clinic to make their experience more comfortable and simpler. It provides outpatients with details about their healthcare visit, allowing them to check-in upon arrival via their mobile device and queue remotely while they wait to be seen.
Prioritising both your organisation's operations and patients' convenience, NEXA Visit offers so many benefits to support your service quality.
Here's what you need to know.
How does NEXA Visit work?
Designed to enhance the patient experience, NEXA Visit enables patients to check in for their appointments upon arrival and confirm their details. It also can ask additional questions regarding Medicare consent, so you can effectively pre-screen patients and be more prepared to address their health requirements.
In order to help patients remember and manage their appointments, NEXA Visit shows your patients their future scheduled appointments and allows them to review the details of past appointments.

What are the advantages of using NEXA Visit?
NEXA Visit allows you to create a great impression and deliver impeccable service to patients. It makes every visit to a healthcare provider simple by streamlining patient flow, reducing the need for physical lines and providing patients with a better way to manage their time while waiting to be seen.
Here are some of the other benefits of NEXA Visit:
Improved efficiency for patients
Patients can check-in for their appointments via their mobile devices. This allows them to manage their own waiting experience, giving them the freedom to grab a coffee or even go to the bathroom knowing that they will not miss being called for their appointments.
NEXA Visit also allows patients to check-in for multiple appointments so that their visit to your clinic will be a more streamlined experience.
NEXA Visit eliminates confusion between your staff and patients. Through the app, patients can confirm if their demographic and appointment details are correct, ensuring all updated information is completed with a friendly staff member before their appointment commences.
With NEXA Visit, you can avoid issuing paper tickets. Instead, it allows you to use automation and digital tickets to manage customer flow and eliminate service bottlenecks.
Seamless customer experience
Through the NEXA Visit app, you can equip patients with a streamlined service – from checking their appointments prior to arriving, all the way to being notified about their next visit and providing feedback. This fosters ongoing patient loyalty by taking their customer experience to the next level.
Compliance with COVID-19 guidelines
By preventing congestion in your medical centre's lobby or waiting room, you can observe all COVID safety and physical distancing measures. NEXA Visit enables you to protect your employees and patients, while also making better use of clinic space.
These are just a few of the many benefits that the NEXA Visit app offers.
It is also customisable to your branding and colours, so you can tailor your patients' experience and make your clinic more recognisable.
Want to know more? Read our NEXA VISIT page for all the details.
Streamline medical appointments and enhance your patients' overall experience with NEXA Visit.
At NEXA, we're focused on delivering innovative solutions that improve both the customer journey and internal efficiencies.
With Q-Flow® and NEXA Visit, we'll help you create a better operating environment that offers your patients the best quality of service and customer experience.
Contact us today and we can discuss your needs.