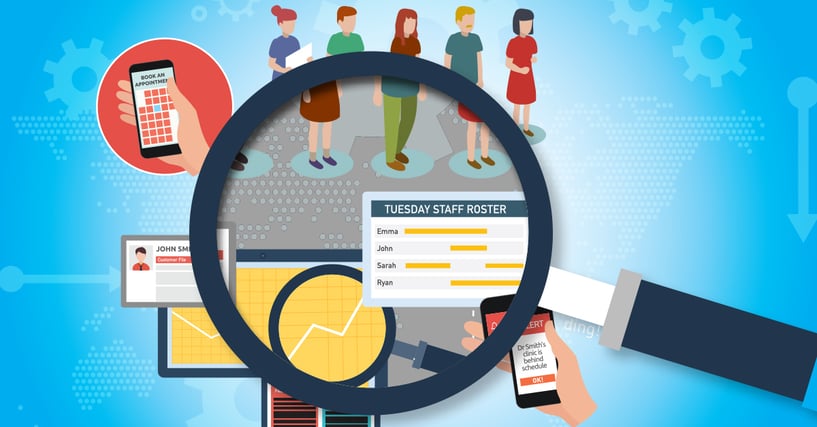 In Australia, there are more than 50,000 hospitalisations and presentations to public hospital emergency departments every single day!
With all of these (and more), healthcare providers are expected to ensure that they're catering to each patient's unique needs while offering a safe, customer-centric experience every time.
As the number of people seeking medical attention continues to grow, the healthcare system is now being encouraged to investigate the role of the patient journey and create solutions that ensure both patient and organisational standards are met.
Here's how the healthcare industry is adapting.
How to capture the entire patient journey
By working to understand your patient journey, you're looking to put yourself in their shoes to gain insights into their experience with your healthcare facility from start to finish.
This isn't always easy, but these insights can help you create a more streamlined process for both your team and your patients.
For example, a patient's ability to book a consultation online may seem like a small and trivial part of the process, but - in fact - it can have a huge impact on how they feel about the way you manage your organisation.
Likewise, if wait times are too long, the information provided to the patient isn't clear or your staff are not responsive to patient needs, the entire patient journey can become irreversibly compromised. Such poor experiences can reflect negatively on your facility, harm your reputation and make your systems ineffective around managing your patients. Most importantly, they can indicate whether your processes are running efficiently or need improvement.
For this reason, it's important to consider all aspects of the patient journey.
Take the time to assess your organisation's current processes, such as your booking methods and patient flow management, as well as staff productivity levels and anything else that may directly influence the final health outcome of a patient.
In addition, it's also a smart business practise to consider the following key components within your patient journey to help you create a better overall experience:
Flexibility and customisation
Task and workflow support
Business process management
Patient notifications
Patient feedback
Integration with existing systems
Reporting and analytics
Aligning existing regulations, procedures, resources, staff and SLAs
The benefits of tracking your patient journey
When you track your patient journey, you gain the opportunity to provide accountability, data accuracy and measurability to your organisation's systems and processes. You'll also experience benefits such as:
Improved competency within departments and services

Streamlined business reporting and auditing capabilities

Timely and effective communications with the patient

Improved administrative efficiency and management transparency
By integrating your core systems with your improved patient journey, clinical admin staff, nurses and healthcare professionals will have a more complete overview of a patient's status and wellbeing.
Improving employee satisfaction by streamlining your patient journey
When you take the time to improve your patient journey, your patients are not the only ones who will benefit.
An effective patient journey solution can minimise paperwork, reduce labour and ease the pressure on your workforce, effectively lowering potential levels of dissatisfaction from your clinicians, nurses and other staff, and creating a more pleasant working environment for everyone.
Improving productivity and enhancing the patient experience will also ultimately result in better staff-patient relationships. A patient who has had a positive experience is much more likely to treat staff with kindness than a patient who has experienced extended wait times or been given inaccurate information.
Remember, however, that change can often be met with uncertainty and resistance. So, managing this transition to a better patient journey requires careful planning, particularly in healthcare settings where your patients are already feeling vulnerable and uneasy.
Automation is the way of the future for healthcare
We live in a digital era where time is a very precious commodity.
Optimising your patient journey through technology can dramatically improve patient wait times, save money and minimise risk within healthcare facilities.
One example of this is the Gold Coast University Hospital, where they were able to decrease their patient check-in wait times from 20 minutes down to just 30 seconds after implementing innovative patient technology solutions.
With the continual growth and rising competition within the healthcare sector, ensuring a positive patient experience is now more critical than ever. Reviewing your patient journey regularly and investing in new solutions can lead to ongoing improvements in your processes, clinical treatments and more.
This is where NEXA can help.
NEXA's patient journey solutions enable medical facilities of all sizes to optimise every aspect of their patients' journeys, delivering a positive experience and improving operational efficiencies.
Are you ready to take on NEXA's patient journey solutions?
At NEXA, we understand the pressure that your healthcare facility is under to provide the best possible care and service you can – for every patient, every day.
So, let us help.
Our innovative solutions are revolutionising the patients journey through the healthcare system and enhancing their overall experience.

We use innovative technology to connect patients and staff with up-to-date information, providing a smooth process from the moment they book an appointment to their final treatment and discharge - all in real-time!
Do you want to experience the benefits that come with integrating NEXA's patient journey solutions into your healthcare facility? For more information, visit us at nexa.com.au, contact us on +61 (02) 8383 3800 or email sales@nexa.com.au.