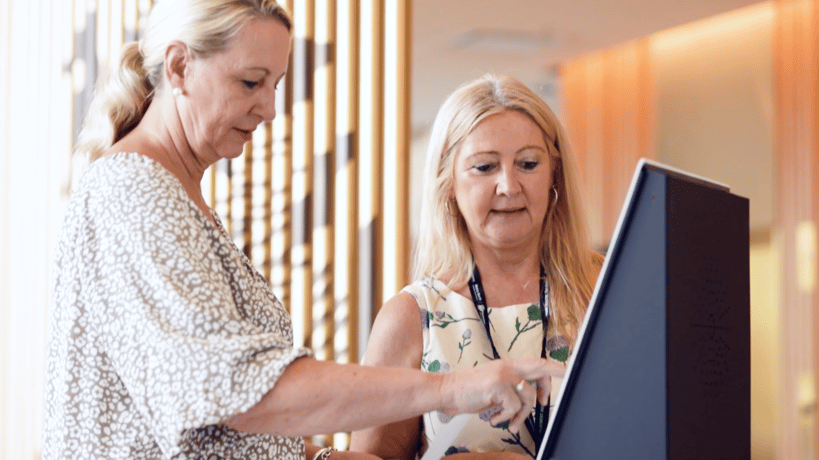 Appointment scheduling is common today for businesses – and rightly so.
Many service-based organisations - like public services, hospitals, medical centres and educational institutions - add appointment booking and scheduling into their customer experience offering as organised visits support better resource planning around staff, resulting in greater efficiencies and service levels.
This also makes their customers happier, as the right amount of support staff mean shorter waiting times and more focused interactions. However, appointment scheduling alone is only one piece of the puzzle. It's definitely an improvement but just having this system alone is preventing these organisations from the full benefits of a complete customer experience solution.
Let's discuss what's missing.
Why is Appointment Scheduling alone not sufficient?
It's all well and good to allow customers to book appointments online or to schedule visits into a timetable, however what happens when people actually arrive at your premises?
What is lacking in a scheduling-only solution is Visit Management: that's when customers show up for their appointment and the business has an appropriate process to welcome and manage them. Typically, Visit Management would cover check-in, waiting (i.e., queue management), and routing to the right service agent.
This is why Visit Management is the second piece of the whole customer experience solution. If you have an appointment scheduling system, then you're setting the expectation that their entire journey with you will be as streamlined and effective as that initial touchpoint.
So if, when they arrive, there is an inadequate Visit Management system that makes them feel welcomed and acknowledged, then their resulting experience could be disappointing.
Why is it important to have both Appointment Scheduling and Visit Management?
If there is so much value in the act of booking an appointment, why does managing the visit make such a difference, and what added value does it offer to the business?
Let's look at the situation through the customer's eyes: booking an appointment is a promise made by the business to meet and greet the customer at the customer's preferred time, and to provide the customer with the best possible service. Now, if a customer arrives at the designated location on time, but then is not met and taken care of as they are expecting – immediately the business loses points for failing to deliver on its promise.
They will feel forgotten, frustrated or worse.
Instead, there has to be a check-in process in place, where every customer's arrival is immediately noted, appreciated and managed effectively. Without it, customers will be less likely to book an appointment again.
After all – what's the point if their booking isn't actioned when they get there?
Visit Management benefits the business too
From the business standpoint, it is naïve to think all customers who book an appointment arrive on time – or at all. Depending on the type of business and purpose of the appointment, no-show rates can roughly be anywhere between 50-80%. Customer accuracy can also vary too. Knowing exactly when customers arrive in comparison to their booking time is crucial for the proper planning of service resources, calendar capacity and customer-handling processes.
It also helps your business collect data on customer behaviour to help make more informed decisions going forward. For more information, see our article: The Importance of Quality Data to Drive Better Business Decisions.
In addition, it is important to remember that even in a scheduled-service environment, not all appointments start and end on time. When delays start to build in the process and your service agents start running behind schedule, a solution should be in place to handle customers to:
keep them informed
explain the delay to prevent frustration
decide whether to contact and reschedule their appointment
allow them to wait calmly, knowing their place in line is kept
route them to alternative service agents, if their preferred or allocated agent is unavailable; and so on.
Again, this is all part of the commitment to deliver what appointment scheduling promises through onsite Visit Management.
So, while offering the option to book appointments is a great step forward for any service-based business, it is Visit Management that helps both service providers and customers make the most of their customer experience. Once you have both parts working in synergy, you'll notice the difference, not only for your customers and your team, but also in your business' performance too.
Improve your customer experience with NEXA's scheduling and Visit Management solution.
At NEXA, we're experts in the customer experience. We can help you analyse your current processes and strategies to determine how you can achieve the most benefit from introducing appointment scheduling and Visit Management solutions.
With the help of technology, we can align your products and services with your customers' unique needs, helping you to grow your business and get ahead of your competition.
Do you need help improving your customer experience?
NEXA is an Australian company that delivers innovative solutions to empower both our clients and their employees by taking advantage of digital technology. With NEXA, you can support and enable your team, deliver excellent service levels and thrive in today's evolving landscape.