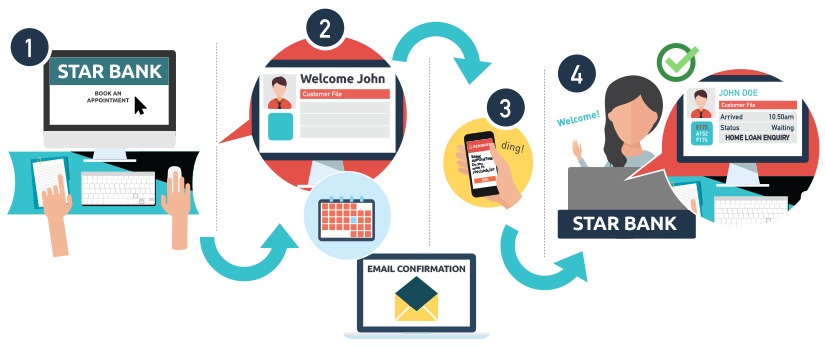 Appointments have somewhat changed over time.
Hearing the word appointment, we often think of a face-to-face interaction at a pre-arranged time. In fact, the dictionary describes it as "an arrangement to meet someone at a particular time or place".
While that's true, our face-paced lives and never-ending errands often make appointments something we slot in amongst many other to-dos on our lists.
But when we overlay this with technology, it provides a much richer experience for both parties that extend beyond the actual appointment time.
Let us explain.
Let's say a customer is researching home loan information on their bank's website.
Whilst on the website, he is able to easily book an appointment online at a time and branch that matches his schedule. Afterwards, he receives an email confirming his appointment. He is also provided with details of all the documentation he must bring to effectively secure a loan.
A personalised text message reminder is then sent before the appointment time to ensure he doesn't forget. Upon arrival at the bank, the staff member is already expecting him – the employee is even well prepared for the home loan discussion because her system notified her beforehand.
Afterwards, the customer is told that any follow-up actions will be sent via email and/or text message.
The above scenario is an appointment that is improved by technology, every step of the way. It showed that booking an appointment was far more than just the service or consultation time.
Scheduled appointments using website software, login portals and check-in systems are common today and can ultimately prepare both customers and staff for the journey to maximise the value from the meeting. In the above, the customer knew what to bring to ensure his loan application was successful, and the service representative knew about the customer from the booking details, including what he needed and what he was applying for.
Effective appointment setting like this enables customers to retain control of their time – giving them essential notifications and reminders to ensure they turn up ready for their appointments. The pre-appointment preparation ensures the most effective use of time during the actual appointment, and the best outcome as a result.
However, to streamline this process, your business needs appointment scheduling technology that integrates well with your core systems. Here's why.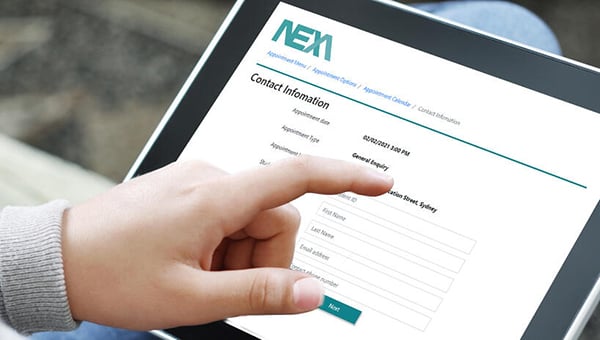 4 benefits of having an advanced appointment scheduling technology:
It helps you retain customers by offering them convenience
You are more likely to gain and retain customers if you have a seamless appointment setting experience.
With appointment scheduling software, your customers can book appointments - anywhere and anytime, with a few clicks. It doesn't even need to be during business hours! On top of that, customers can also reschedule easily.
It delivers constant contact
Most software tools support email and phone communication. They allow staff and clients to exchange questions and acquire necessary information, making the appointment a better experience for all. Appointment scheduling tools also keep customers informed and engaged. They reduce the no-show rate and increase customer preparedness.
It can boost revenue
Scheduling software allows your staff to take advantage of automation and internal efficiencies. Now, they can focus on servicing more customers and providing the highest quality of experience.
Appointment scheduling software that integrates with payment gateways also gives real-time revenue information, allowing you to make strategic decisions to ensure your business reaches its financial targets.
It promotes productivity
When your team knows who they will be serving and why, they can be better prepared for the appointment. By letting your customers schedule their appointments beforehand, you can effectively resource service centres accordingly. Tools like NEXA OASIS also deliver valuable data and insights to help achieve key performance indicators.

Do you want your own appointment scheduling tool?
With it, you can also offer appointments that offer so much more value.
Giving your clients a simple and fast way to book appointments enables your business to deliver excellent service and provide an enhanced customer experience.
At NEXA, we can help you succeed through our online booking solutions that equip your customers with the ability to schedule appointments for a specific service at a specific location and time.
As an enhancement to Q-Flow®, NEXA OASIS lets you input all dates and time slots, so your customers are presented with all available appointments to choose from.
After successfully scheduling their chosen appointment, NEXA OASIS will provide a Booking ID number that allows customers to check, change, update or cancel their booking. This means they can manage their own booking without having to call or wait.
NEXA OASIS empowers both your team and your customers, providing a better experience that optimises your operations every day.
Want to know more? Contact us today, so we can start discussing your needs.
Revolutionise the way you conduct appointments together with NEXA.