In this article, we'll show you how to create a cycle in five steps so that you can implement a plan and experience the benefits of feedback firsthand. Ready to take your facility to the next level? Read on.
There are many reasons why health care facilities might seek customer feedback – to identify underlying issues (and opportunities), to continually improve service standards, or do away with processes that aren't working for you or your patients.
Feedback can also help you raise the bar across the board. For patients, the process can demonstrate to them that their input is heard and valued, and internally, feedback can help you establish service KPIs and a culture of innovation within your workforce. So, when you're creating a feedback cycle, you're making a positive move towards holistic improvements and better relationships with everyone involved.
Getting to know the feedback model before diving in
Applying the right techniques to collecting and interpreting data into rich (and useable) insights, is key to getting the most useful information from your feedback cycle. Without a tried and tested plan, it's easy to miss a critical step or opportunity, so before taking action, we suggest familiarising yourself with this simple yet effective model. Check out the infographic below.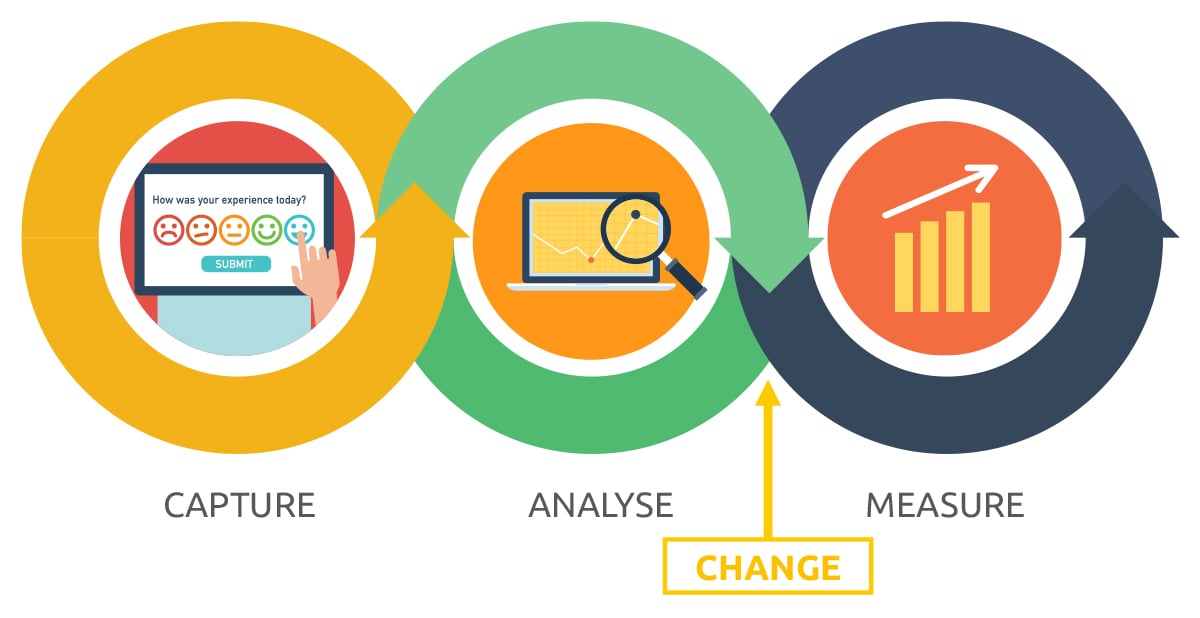 DOWN TO THE DETAIL – practical steps to creating a successful feedback cycle
With the overarching model under your belt, let's move on to the actionable steps required to implement the framework effectively. Starting with choosing the best collection methods for your objectives.

STEP 1 - CAPTURING INFORMATION
There are many ways to collect feedback from your patients – each with its benefits and limitations. Every facility is different, so you'll need to select the collection technique that suits your needs and the type of data you're seeking. Here are some examples of collection methods:
Patient experience surveys – for general information on patient needs, wants, and pain points (SMS or automated kiosks are great platforms for this style of survey)
Tailored surveys – for targeted information about a specific area or patient experience
Population surveys – for information on patients from diverse geographic and demographic backgrounds (uncovers community-specific issues)
Focus groups – for collecting qualitative information from sample groups, within a closed setting (like a small group interview)
Interviews – for one-on-one insights (this can often be time-consuming though)
Patient panels – where representatives from the community provide feedback and contribute to decision-making
STEP 2 - ANALYSING THE DATA
Your data is only useful if it can be understood, and insights translated into actionable, measurable outputs that are reviewed over time. Recording key findings and comparing the results against feedback collected down the track, will allow you to spot patterns, opportunities for improvement, and gaps requiring further attention. This step may take a little time, but it's time well spent if your facility and your patients get to reap the rewards!
STEP 3 - COMMUNICATING FEEDBACK
You've taken the time to ask for stakeholder input – now share the insights you've worked so hard to uncover! This shows that your facility is transparent about the feedback process; that you are committed to best practice; engage others in your decision-making, and in some cases, are meeting regulatory requirements.
Showcase key findings (and planned actions) at events, through direct mail, your website, annual report, or a range of other marketing communication channels (like social media, in-facility displays or newsletters). Nothing says 'we're listening' like being open about how you're going to address patient concerns.

STEP 4 - IMPLEMENTING CHANGE
With critical insights in hand, you can finally start planning and implementing change. Depending on the type of change (big or small), we recommend taking a strategic approach for the best results:
Set goals and objectives that are achievable, measurable, and have a deadline
Establish manageable steps to achieving them
Prioritise actions
Involve relevant stakeholders (this may include staff or patients, for example)
Establish a reporting channel (who you will communicate the progress with)
Review along the way and at the end of the process – lessons will be learnt!
STEP 5 - MEASURING SUCCESS
The only way you can tell if you've made improvements is to gather ongoing feedback (for data on specific changes) and by setting benchmarks from which to measure progress. You will have already established targets (when setting objectives), now is the time to review your results and if you're not achieving what you set out to do, investigate why and what you can do to improve. This doesn't have to feel like a criticism – more of a checkpoint to ensure things are progressing well. There's no shame in tweaking actions along the way if it leads to better results.
CAPTURING AND ACTING UPON FEEDBACK HAS BENEFITS FOR EVERYONE
Collecting, understanding, and acting upon feedback, while not always straightforward, can have long-term benefits for patients, staff, and your facility as the improvements you make can raise the bar for other health care facilities too. Engaging patients in the process and sharing ownership of improvements is a terrific way of showing them they are valued. Likewise, staff see that you're committed to the continuous improvement and development of your facility, which makes them feel good about where they work and want to contribute to its success.