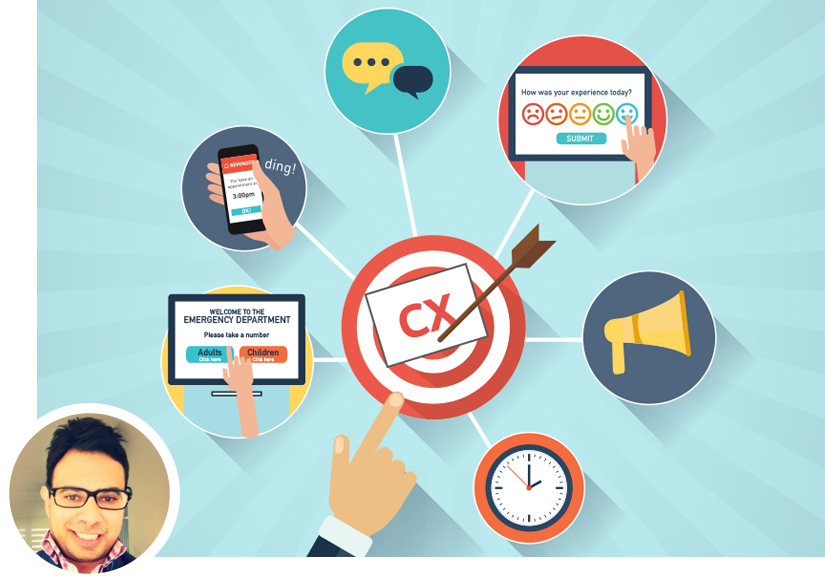 Customer Experience (CX) is no longer a nice to have and is now a strategic business imperative. It is tipped to be most exciting opportunity for organisations in 2017. Furthermore, a study by Gartner predicts that by 2018, more than 50 percent of organizations will implement significant business model changes in their efforts to improve customer experience.
Acknowledging that CX will be the key business or organization differentiator, NEXA is committed to enabling our clients to enhance their customer experience through globally recognized technology and now human centred service design.
Dennis Singh is the Director of CX at NEXA and is on a mission to build customer-centric organisations everywhere he goes. In a short interview, he explains the importance of CX in organisations today and how NEXA is poised to help you make every customer interaction matter.

Customer Experience is such a buzz word in business now – how do you define it?
It's interesting that it has become a buzzword, however in my view a lot of us in the world have been adopting the customer experience mindset for years. It certainly isn't something new at all. Most of us shop online, attend entertainment venues, pick up kids from sport, dine out on weekends, the list goes on. We have an experience, good, bad or indifferent and as such Customer Experience is part of our mindset – whether we think about it or not, it exists!
At a basic level customer experience involves a deep understanding of the following themes:
"Who" your customers are, their behaviours, attitudes and motivations
"What" they face as challenges and pain points
"How" can you improve the experience to address those pain points and measure the success
"When" they do what they do, what's their experience (good, bad or indifferent) and most importantly how do you know about this? (feedback, word of mouth, observations etc)
"Why" they do what they do with your brand, product or services
At NEXA we spend a lot of our time solving problems and testing them across the entire experience our customers customer's have. A few important areas of this study involve – defining customers (behaviour, profiles, segments, etc), understanding their pain points, looking at opportunities to remediate those pain points, assessing the data to support findings and then designing new experiences which can be measured and delivered to provide a better experience.
Some organisations are excelling at their Customer Experience - what are they doing that sets them apart?
In my opinion, the ones who are doing really well are making it incredibly simple and measurable.
It's simple to do business with Amazon as a consumer because the experience is cohesive, consistent across their customer touchpoints. Similarly with companies like Paypal, the way you can pay for goods or send money is contextual, easy and often integrated without you knowing in your overall purchase experience.
In both these cases, results or outcomes can be measured from both points of view. As a customer of either service, your feedback is regularly leading to improvements or greater service with the brand which you can experience through more relevant features and services. As a business, Amazon can measure their customer experience through real time.
In my experience, most organisations try to complicate what could be achieved if they stripped away the bells and whistles and created more thought around the customer problem solving than what they feel customers desire, only to find a burdened financial cost, and lack of customer acquisition strategy.
We're also hearing a lot about Customer Journey Mapping, why is it considered relevant as part of understanding the Customer Experience?
Customer Journey Mapping is a very good way of not only understanding the key stages of a customer's interaction with a brand, product or service but it allows designers to uncover key pain points and opportunities that can be solved. These pain points are important because designers can study their impact, size and priority along with the business and its customers. This helps provide a more formative, concise scope of work which can be accurately costed against and prioritised against business outcomes.
Another very relevant use of the Customer Journey Mapping exercise is that it allows various teams (technical and non-technical) to refer to the experience customers have in a very layman fashion. This allows discussions to formulate which otherwise may not have been as effective given the difficulty of getting these teams often "on the same page".
What tech tools are available along the journey to enhance it?
During the mapping of the customer journey, we also use data analytics to help confirm and validate our assumptions and findings. This is really important as the data design approach allows us to discover and uncover solutions to problems that are measurable/quantifiable against data.
Another tech tool we often use is the suite of design tools available for rapid prototyping, customer testing and research. There are many on the market but we try and use tools which allow us cross compatibility and ease of use for sharing within our design teams and our clients.
How does NEXA make customer interactions matter?
NEXA believes that all our customers benefit from an experience when their interactions matter. For an interaction to matter, we believe in each interaction being measurable, relevant and outcome based for solving problems our customers feel everyday.
When we design customer experiences, we look at interaction patterns – how and where does a customer do something the same? Or different? How does their behaviour change through the course of their journey? Did this interaction pattern solve the problems well or has it missed the boat? – through our testing and iteration phases we are able to uncover and refine our work which adds immense value to our customers.
What do you believe will be the biggest change in the CX space in the next 3 years?
With the current transformation of digital, as well as disruption AI, Robotics and Reality based interfaces (which existed before), we are seeing an emergence of these devices, technology and disciplines across everyday business and consumers are being exposed to these at a rapid rate. What we will find is that the core customer problems may not change, however what we provide to solve them will. Recently I attended an Open Night to speak at Sydney University on Industry and I was highly impressed by the smarts students of today have to solve everyday problems. Be prepared for some exciting and innovative ways to see these evolutions!
If there was one piece of advice that you could give organisations embarking on a CX program, what would it be?
Be prepared to listen – You or your business don't know everything. Empty yourself from your preconceived opinions and be prepared to listen and understand the pain and frustration of your customers. Refrain from going into solution modes of which apps, tools or technology can be placed infront of them. Focus on being a good listener first.
Be empathetic – In the fine words of Atticus Finch, all customer experience essentially boils down to this quote which I believe in to this day "You never really understand a person until you consider things from his point of view... Until you climb into his skin and walk around in it." – find ways to do that and you're on your way!.
Be problem solving oriented – It's all wonderful to have exciting ideas, but being able to quantify the customer problem first, it's impact and thinking about what the problem actually is, is far more important.
About Dennis
Dennis is deeply passionate about solving problems and helping clients drive measurable value-based outcomes. He takes a lot of interest in refining and reviewing how we can improve Customer Experience by a pro-active approach involving data and design thinking. Prior to NEXA, Dennis was a valued member of Westpac's Senior Management team driving through end to end Customer led projects within Digital Sales, Consumer Finance and Everyday Lending. He also held Senior roles within the UX and CX space and worked for top tier consulting firms and in conjunction with Accenture, Deloitte and other organisations.
Dennis lectures at General Assembly part time and when he is not immersed in the world of CX he enjoys the outdoors, music and art. He was recently awarded first at Australia's nationals in scale models of historic and racing cars.